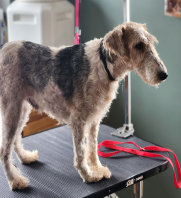 There is a boy everyone should meet. His name
is Doobie and he will break your heart. He will teach compassion, empathy and personal responsibility and that abuse and neglect is never acceptable. I have changed his name to Doobie as it is a whole new life with a new calling. He was living with his owner and her boyfriend when he was tragically allowed to be hit by a car in April 2020. He was taken to a vet clinic after the incident and unfortunately was the only medical visit he had. Doobie sustained a spinal injury and contusions. The report also reflected an "old" fracture and trauma. For the past year, he was left to languish in pain in confinement in this home. He was treatable last year had he gotten medical attention, therapy and possible surgery. No time for him was one of the excuses and busy working and simply could not be bothered. Rather than find a Rescue for him last year, they chose to just ignore him & his cries by locking him in confinement. Doobie is matted to the skin with clumps so large they are difficult to cut off. He has urine burns covering his entire stomach, his ears are badly infected, he struggles to get up & move around due to his back end. His back legs are simply not working for him. He wants to be mobile so bad and drags them behind him. There seemed to be no one who wanted to take on such a project and help this boy. I just could not look the other way and he needed to get out of his environment asap. Doobie is a Wheaten Terrier who according to the only record from last April was 3 years old. I would estimate him to be more like 4 - 5 years old. He was transported to WFTRM and when the rescue team met to take him, his owners opened the door and let him fall out the car and onto the ground. No collar, no leash, no belongings except for a filthy rag that was supposed to be his blanket. They had tried to use scissors to quickly cut the hair on his face. Those big brown expressive eyes showed relief that he was on his way to Rescue.
WIRE FOX TERRIER RESCUE MIDWEST
GALLERY OF DOGS
DOOBIE
My big curly, innocent sweet faced boy DOOBIE has made his journey to the rainbow bridge. Sadly, he was in a great deal of pain and anxiety and although I contemplated making that call 100 times, each day I saw his face I said maybe tomorrow. The accident in 2020 when he was struck by a car with force left him with internal injuries that appeared over time. The last 4 months he would pant and cry all night and often during the day as well. He developed these tremors where his head would jerk and shake and then different parts of his body twitch and kick out. Doobie did not want to go in his beloved wheel cart any longer and when forced to go in the yard he would cry and beg to go back inside. His two big fur beds are where he liked to hang out and watch what was going on. There was usually one of the boys snuggled up next to him as he made a great pillow. His strength in his front legs began to waiver and he tried so hard to lift his upper half up. It was very emotionally painful to watch him struggle. His kidneys and bladder were not working, and we changed his big diaper several times a day. Eventually his bowels decided to follow where it was continual movements and no routine. We knew it was time to end his suffering. Max came with me to help hold him and let him know he was very much loved. We had to use a wagon to transport him into the hospital. Doobie was determined to be loved and doted on and that is what he received for this past year he was here in Chicago and WFTRM. Every morning he received a bowl of the Costco chicken they have vacuum sealed from the rotisserie chicken they cook. He loved it and although the Bedlington's try and steal, he just ate faster. When I picked up new toys, he got the biggest one at the store as he loved those the best. He had a stack of fur blankets to cover his beds and rotated as they had to be washed frequently. Doobie especially liked it when one came right out of the dryer and was warm and toasty. He loved to have his curls petted but did get mouthy when he played. This boy had the sweetest face and eyes you ever saw, and you could not help but fall in love. He was loved by so many rescue friends as well, receiving blankets and gifts, cookies and cards and was so heartwarming. He was a special needs boy who while was a ton of work and expense, was worth giving that year of happiness, care, and love. Doobie is running pain free on all four legs like he dreamed of doing, romping, and playing and giving a proper Wheaten Greetin.' We will all miss you very much.