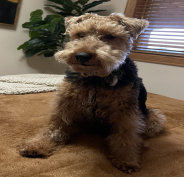 LAYLA
Layla is a happy, sweet natured cute Foxy girl. She can get very silly. She loves to put her front paws on me and push rapidly begging for attention. She likes to play fetch, does that adorable paw pump when she is begging. She knows sit. Layla has her own room here at night and sleeps soundly in her doggie bed. She is fine in a crate however prefers her bed. Layla has the most adorable pose when she lies down she always crosses her front paws and looks so lady like. She Loves walks, rides nice in the car. She gets along fine with all the boys here but like most Foxy females doesnít get on too great with other females. She is quite content with a male companion who listens when she wants her way. I call this Bossy Girl attitude. Layla has had a Topsy-Turvy life, once surrendered to a shelter with her sister. The shelter placed her as an Airedale, we know she isnít an Airedale. This all happened over a year ago, The family who adopted Layla had NO Terrier experience they loved her and took good care of her however didnít understand this sometimes challenging breed. I had a phone call one day asking for help to find her a different home. Layla moved to Iowa and I honestly see nothing unusual about Layla. She is needy and somewhat anxious, loves to hang out with me however fine if left alone in the sunroom. She doesnít like it outside appears to get fearful outside so I am working with this issue. I go out with her first on a leash gradually convincing her she is fine outside alone. Layla loves it if I sit outside and she can jump on my lap. She doesnít like loud noises. She would do ok in a home who likes to walk the dog outside to do her business, Layla prefers it, rarely enjoys the fenced yard. She enjoys car rides also. Layla is a companion girl who loves to spend time with her person. She would make a great pal for a single person or couple who want a Foxy girl who is best friend and companion. She is very cute and has some adorable antics, I love her personality. She has changed and calmed down quite a bit since arriving here. I would like her to go to an experienced Wire Fox home. Layla is completely done with all of her vet work. She was born 9-2-18 She weighed 17 pounds in April of 2020 Now weighs 22 pounds Layla is overweight now. We are working on getting some weight off. She could also use a new groomer once her adorable curls grow back Layla will be having a spa day and proper Foxy groom. I have included some pictures of her with her curls. She is a small wire girl once the weight is off. Layla is ready to begin her journey to a Forever home. A home who loves, appreciates and understands a Foxy Girl. She loves to have fun and will make a wonderful BFF for the right family. Layla is in Iowa and we are anticipating many applications for this awesome young girl with so much potential.
WIRE FOX TERRIER RESCUE MIDWEST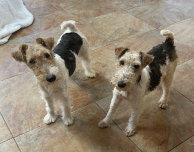 GALLERY OF DOGS
REGGIE
Reggie is a long legged, lanky fellow who arrived in rescue a few weeks ago. He is just getting more handsome and loveable every day. Reggie is guessed to be 10 years young. Reggie is a little prince, regal in his own way. He is on the independent side, however barks loudly if he canít see me. Reggie isnít big on being held, but adores being petted and sits beside you. He likes ear rubs and gentle touch. He sleeps soundly in his bagel bed and barks in the morning to let me know he needs to go outside. Reggie is well house trained and Loves to go on car rides. He is a calm, well-mannered house guest but busy checking everything out, Curious little guy. His biggest interest is Food. Reggie loves to eat, excited for treats and isnít fussy. He also loves to snuggle in blankets, wear his coat or sweater. I think Reggie has noticed a temperature change. He was so funny after his bath and groom, racing through the house, he was so proud of his new look. He seemed to know he is special now. He does enjoy being pampered and thatís perfect because I love to cuddle and pamper him. Reggie is neutered, vaccinations complete, microchipped, had panacur for parasites, HW tested negative. He was in dire need of a dental, had several decayed molars. When he was taken to the vet for the dental procedure he had blood work up and through vet check. Dr. found his liver enzymes to be elevated the rest of his blood work was in normal range. Dr. decided to do an ultrasound of the liver. Dr. did find a small 3 centimeter mass on the liver and decided to perform a needle biopsy while he was under for the dental. The biopsy came back Benign, No cancer. Based on the histopathology, the diagnosis is cholangiohepatitis from possible ascending bacterial infection from gallbladder. Given the area that was biopsied, there is a possibility that the histopath was not a representative sample, therefore if bloodwork doesnít improve with antibiotic trial for 2 or 3 weeks, additional histopaths may be needed. We will recheck liver values 2 weeks after starting antibiotics if improvement continue antibiotics for 4 weeks. If improvement continues likely bacterial infection is the cause. If no improvement in liver values further testing, ultrasound additional aspirate or biopsies could be performed. Reggie was a stray or dumped judging by his appearance he was loose a long time or just not loved. Since making his way to Iowa, he is becoming more personable every day. Reggie like so many others knows he landed in a soft place and Life is Good. He would be a perfect companion for some lucky person who has time to hang out with him. He is fine with other dogs, who are calm and have a kind heart like Reggie. Reggie would be happy in a condo or townhouse as long as he can be walked. He would like all wires take off if not kept on leash. He also loves to explore in my fenced yard but he says Button up my over coat its cold in Iowa. Reggie is a Gem who needs someone to love him Forever.
Neutered
Rabies Vaccination
Distemper/Lepto
Bordatella
Heartworm Tested
On HW Preventative
Fecal Check
Biopsy
Full Blood Work Panel
Full Dental Cleaning
Groom
Micro Chip

Spayed
Rabies Vaccination
Distemper/Lepto
Bordatella
Heartworm Tested
On HW Preventative
Fecal Check
Bloodwork Panel
Micro Chip
Grooming

Send Application to
ccswires@netins.net
Send Application to
ccswires@netins.net