WIRE FOX TERRIER RESCUE MIDWEST
Gallery of Dogs
Send Application to:
knierim@msn.com
PEPPER IS LOCATED IN
PEPPER
When you choose Rescue, it is you who Blossoms.
On Memorial Weekend,
Pepper arrived at WFTRM
Chicago Safe -but I so wish
I could say Sound. His
owner has dementia and
is finally moving to a nursing home and the family brought him to the Shelter to relinquish. Pepper has the largest lipoma on his rear end ever seen which adds about 14 pounds of weight to his hind quarter. His little legs strain to support this mass and it is difficult for him to defecate. Why it was allowed to get to this stage baffles the mind but it has been growing for many years. Despite what he has had to endure, he is the sweetest and happy go lucky 10 year old Wire Fox Terrier boy you ever met. He greets everyone with a friendly hello and smile. Pepper is a funny little guy, follows you around and is so well behaved and laid back. It breaks your heart to see those eyes and not want to help him and hug him.
Neutered
Heartworm Tested
On HW Preventative
On Flea & Tick
Rabies Vaccination
Distemper Vaccination
Bordatella Vaccination
Fecal Check
Ears Cleaned/Cytology
Canine Influenza Vacc.
X-rays
Ultrasounds
Full Bloodwork
Micro Chipped
On June 5th I took Pepper to see a specialist at VCA Aboretum Speciality Hospital and they drew more blood for specific testing and radiologist reviews. He was jumping on everyone at the hospital looking for hugs - he had them all charmed. His stomach is very enlarged and he is very anemic. Both Red Blood Cells and Platelets are being destroyed and is dangerously low. They are going to do an extensive ultrasound of his organs today and he will stay in the hospital to begin treatment for the severe anemia and to make sure his RBC does not drop any lower.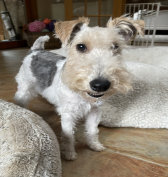 Pepper's WBC was 36 and his nose was draining so he certainly had an infection raging somewhere. He had a one week stay in the hospital and had I.V. antibiotics to aggressively treat this and was also fluids and was being hand fed. He likes this and seems is the only way he will eat. The mass is so heavy it hangs over his rear end and the tail is now underneath. He has a rash on his anal area from the moisture so that is being cleaned and treated daily as well. Pepper's blood work was rechecked on Saturday June 2nd. Although the WBC came down, now his Red Blood Count dropped very low. A 4dx Heartworm Test was performed to make sure he did not have any tick born disease and that returned negative. He had an ultrasound which showed his liver to be slightly enlarged and an irregular bruise on his abdomen. Anemia is a serious condition and the underlying cause needs to be diagnosed for the proper treatment. His stomach seems to be more distended than when he first arrived. He was restless and panting all night so I would sit with him, pet him and comfort him.
Pepper is holding his own right now but is dangerously anemic. His liver is very enlarged and infected and has a 4cm mass along with some nodules. The spleen is very enlarged, infected but has no masses. This is causing the stomach distention. Blood work was sent out for a radiologists report which came back not leaning towards IMHA - an auto immune disease of the red blood cells. Pepper is being treated for ITP which is the destruction of the platelets. What could have brought this on so acutely since he was dropped off at the Shelter and then came to Rescue. They suspect vaccinations which can trigger severe episodes of ITP. Pepper had not seen a vet for many years and he was given all his vaccinations at once at Anti-Cruelty. While there is no clinical proof that this is the cause - this is what is suspected. From now on . . . hoping there is a from now on . . . Pepper will just get titers. Here is the plan for Pepper. He is on a boat load of medications which I had to send Max to the store to get a pill sorter for me. On June 11th he will go for another blood test to check his platelets. If they have come up then he will be able to return for a scheduled needle aspirate of his spleen and liver. The aspirate will tell us whether it is cancer or not and we move forward with ITP treatment. Going to keep a positive outlook that it is not. For now I am told to keep him rested and calm. Pepper tried out the new foam stairs to allow him up on the chaise and they work great. He is such a love bug this guy. If you think his pictures are sweet then you should meet him in person.
On June 11th I took Pepper to VCA Aboretum Hospital for a blood draw to see if his Platelets are rising and if he will be able to have the FNA. I received the report a few days later.
Pepper's anemia is still present but stable. Platelets are clumped and absolute number says 50,000 but impression says there is an adequate number of platelets. WBC count is increasing and now is moderate to severely increased. We usually do see an increase in WBC count in dogs with ITP and/or IMHA but usually not this high. Also, we usually do not see this much young WBC (bands). Dr. Otoni recommends a pathology review on the blood to see if the platelets are really adequate or not and also for them to let her know if the bands are really that high. I've added this test on this morning and we will keep you posted. This increase in WBC is slightly concerning for cancer (in bone marrow or other organs). If his platelets are actually good, we can schedule and spleen and liver FNA to rule out the cancer in these organs, otherwise we will have to wait until normal. Continue Atopica 50mg every 12 hours only (not 75mg every 12 hours) and drop prednisone to 1/2 tab of 20 every 12 hours until we call you with path review results.
I agreed to the pathology review of the blood and was waiting for results when Thursday evening things changed. Pepper's abdomen was so swollen and he was not eating a thing. I took him to VCA Arboretum Hospital on Friday morning through emergency. He was admitted and hospitalized.
I am completely heartbroken that Pepper has peacefully made his journey to the Rainbow Bridge. He was hospitalized on June 15 and in the ICU care unit at VCA Arboretum Hospital. I received a call around 11:30 p.m. from the doctor that Pepper's condition is worsening and his pain level is so extreme. He was on high doses of I.V. Ketamine and Fentanyl and this was still not cutting his discomfort and pain. His stomach continued to expand, filled with inflammation and he was not able to move anyting through his intestines. There was now fluid around his organs and suspected peritonitis and pancreatitis on top of the ITP he was struggling to overcome. The steroids are murder on the stomach but he needed them to combat the low platelets. When the doctor called the morning of the 16th we had a long discussion about Pepper and the compassionate decision to let him go without further suffering. I cried my eyes out, then got nauseous, cried the entire journey up there. Pepper was in such agony I could see that when I arrived but it still does not make it any easier. I got to hug and kiss him and hold him which he loves. He seemed so out of it and really not sure with all the pain medications he was with me but he definitely felt me and I was there for him. They were so kind and caring to me and Pepper during this painful journey and had assured me that although I could not fix him, I greatly helped him and made his short time with me very happy and loved. I am so sorry I could not get a miracle to happen for Pepper. He truly deserved it and was the best boy. I have not stopped crying and need some time to grieve and be able to get a grip on my feelings. I am truly grateful to everyone who cared for and prayed for Pepper. To everyone who sent a donation to his Pepper's Medical Fund I thank you from the bottom of my heart.