WIRE FOX TERRIER RESCUE MIDWEST
Gallery of Dogs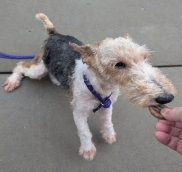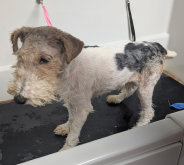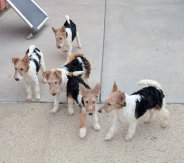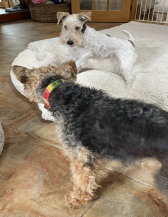 Send Application to:
ccswires@netins.net
ASPEN IS LOCATED IN
ASPEN
When you choose Rescue, it is you who Blossoms.
LOGAN
Aspen arrived in Iowa
from a Ranch in Colorado.
He was surrendered
because of owners life
change. He is a gentleman,
quite stylish, refined and
debonair with a gentle loving nature. He is going to be 4 years old in February. Aspen is ready to Jump into the arms of a loving new family who has plenty of time to snuggle, play fetch and training. He is so well mannered and loving. He arrived rather anxious and frightened, poor guy hasn't spent any time off the ranch so he needs socialization. Walks, Car rides new experiences to gain confidence to face new situations and people. He has a great attitude and loves to cuddle once he gets to know you. He is my shadow now that he feels safe. He is so handsome, his beautiful eyes melt my heart. Seems to like the other dogs here, but I am sure he would love being the only dog in his new home. Aspen is house trained, crate trained needs work with Leash walking. Welcome my new little dude Aspen He is a Star.
LOGAN IS LOCATED IN
Send Application to:
ccswires@netins.net
Neutered
Heartworm Tested
Received HW Treatment
On HW Preventative
Rabies Vaccination
Distemper Vaccination
Bordatella Vaccination
Fecal Check
Ears Cleaned
Micro Chipped
Neutered
Heartworm Tested
On HW Preventative
Rabies Vaccination
Distemper Vaccination
Bordatella Vaccination
Fecal Check
Ears Cleaned
Micro Chipped
Logan is a lovely 7 year old Irish Lad looking for a loving Forever Home. It's almost time to celebrate St. Patrick's Day. Wouldn't it be perfect for Logan to have a home it's all about The Luck of the Irish. His gorgeous Red color looks great with green. Logan has experienced Luck of the Irish when he was pulled from animal control in TN. He had a huge gash in his neck, very thin, terrible coat condition, teeth were a disaster and Heartworm positive. Loganís days were numbered until he was discovered by ITRN. Jackie Cash with Airedale rescue picked him up. He was off to her vet and eventually transported to Iowa WFTRM for foster and treatment for HW. All of his medical issues are behind him now. Logan is in great health. He is handsome, healthy, charming, smiles and loves to talk. He is a typical dancing mischievous Irishman. He loves walks, car rides, snuggles with his favorite person. Logan has had a difficult life so he bonds tight and is extremely loyal to his owner. He needs a committed companion willing to love him as much as he loves them. He loves games and can be so silly. He even does OK with a cat. He has an Irish girl friend here in Iowa he likes too. Logan is also house and crate trained. He is small for a male Irish 30 pounds and on the short stocky side. Logan is waiting and St. Paddy's day is coming.