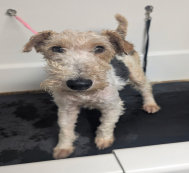 LOGAN story begins as a very sad and neglected tale. When the police were contacted to perform a wellness check on his elderly owner who had dementia, they found Logan in horrific condition. It was learned that he had been locked in this apartment and not been outside of it for over 2 years. His coat matted and skin was weepy and full of sores, and he was very itchy. His eyes were full of mucus and his ears were so severe there was yellow pus oozing out. His nails were curled over and around and pushed into his pads causing his paws to be swollen. His mouth was severe and painful with teeth chipped and his incisors all pushed into his gums. This was from trying to chew out and escape. His owner's condition was advanced, and she was moved to a nursing home. This is when PAWS of Rutherford County North Carolina stepped in and took Logan under their wings. He was fostered in a home and was given veterinary services, treatments, allergy testing, blood work, antibiotic resistance screening and the utmost care. My specialized dental surgery discovered an abscess in the front my mouth which may have contributed to the bone loss. They worked diligently to clear up my skin, coat, ears, eyes and feet. I had the most wonderful foster mom and she was planning on adopting me but the arrival of health issues with some surgeries, she was thinking of me and giving me the attention and care that I needed. That is when I moved up to WFTRM Chicago. PAWS gave me a new leash on life and brought and I will forever be grateful.
GALLERY OF DOGS
LOGAN
Logan was born July 16, 2015. His innocent little face is too irresistible, and his little tongue sticks out quite often due to the removal of incisors in the front. He loves to play fetch and his favorite toys are these soft squeak balls. He is so obsessed he even wants to bring one outside with him to do his business. Logan went to see the vet dermatologist and who did slides, cytology and cultures of his skin and ears. The cultures came back a week later and results are two types of staph bacteria in the ears and a bacterial infection on my tummy. He was put on Cefpodoxime and ear medications. Logan was to the vet for some a checkup, micro chip and as he is not fully house trained, had a urinalysis done which returned normal. Logan was the adopted to a fabulous home, who loved him so much and took the best care of him. Sadly, it was discovered that he had bladder stones and they took him to Penn State University and had his cystotomy surgery. They also saw him through recovery hoping this would explain and curb his mouthy behavior he was having with them. I am sure he was not feeling well and was hurting. They made the difficult and painful decision to bring Logan back to Chicago. He arrived back in time to have Christmas here and settle in.

We went back to the vet for a check up and Logan got to meet Dr. Ben and he was all over him like glue. I wanted to have this kidney bean shape lump on his shaft looked at and discuss the weewee when he feels like it routine. Logan is on a special urinary food which is ordered from Chewy. He also takes some Potassium Citrate sprinkled on his food. We did an ultrasound of his bladder and there was a small cloudy patch which indicates he is forming crystals. The growth on the shaft the vet believes is an extra nipple. The vet feels the habits is behavioral and his past incarceration in the apartment. Logan will do his business outside every day but in between if he is playing, he will suddenly stop over the towel I have in the hallway, tinkle and then go along his merry way. Will continue to recondition him to let me know he has to go out.

Neutered
Rabies Vaccination
Distemper/Lepto
Bordatella
Heartworm Tested
On HW Preventative
On Flea & Tick
Fecal Check
Full Blood Panel
Urinalysis (x3)
X-rays
Ultrasound
Medications
Cytopoint Injection
Vet Dermatologist
Cystotomy
PCCL Surgery
Grooming
Micro Chip


On February 12th we spent the day at the Emergency Hospital. Logie was not eating or drinking and throwing up for several days. A full blood panel was done, x-rays, fluids and cerenia. Shocking news was that he had more stones in his bladder in such a short period of time. Good news was that Dr. Galvao had an opening on the 16th for PCCL surgery or Percutaneous Cystolithotomy. PCCL surgery is a technique where a small 1/2 inch incision is made on the belly and a small port is introduced into the bladder to remove the stones with the help of an endoscope camera. Any amount and any size stone can be removed with this technique. Logie had three calculi in his urethra and three in his bladder which was inflamed. The stones and urine culture were sent out for analysis to Minnesota Urolith. The previous stones removed in December were 100% Cystine. Cystine stones are a rare form of urolith. They form due to a genetic mutation in cystine metabolism. They are commonly seen in male and intact dogs. We were very puzzled as to why he formed more stones in such a short period after the cystotomy at Penn State. And if it is genetic, why has he not had any issues up until now. The best outcome would be that there were stones left behind from the December cystotomy.


Big day heading back to VCA Arboretum View for a reassessment and an ultrasound of the bladder on April 14th. We received the best news – no stones – nothing at all in the bladder and everything looked good. Logie had a full CBC done and doctor is sending out a Nitroprusside Test on the urine. Foster Mom was instructed to order swabs from UC Davis Labs for a DNA Test for Hyperuricosuria – the gene that would indicate whether he has that issue. We are still working on the ears with Midwest Veterinary Dermatology. The next day Logie went back to see Dr. Ben for some vaccination updates, HW test, Fecal and to get his claws cut. Logie got his usual stop at the pet shop for a new toy. He picked out a purple bunny and while paying for it. he slapped his paws on the counter to make sure he was getting it. The clerk said "you want this" and Logie snatched it right out of his hand, ripped the cardboard off and trotted out the door. He is like a little boy in a dog suit. Fingers crossed we are in the home stretch of getting Logie Bear healthy and happy.
Logie is such a character. When the koi pond crew arrived for cleaning, he wanted them to play ball. He kept shoving his ball at them through the deck rail. They picked it up twice but quickly realized he will do that all day!