WIRE FOX TERRIER RESCUE MIDWEST
Gallery of Dogs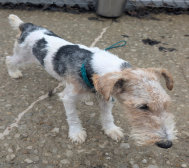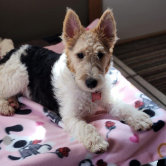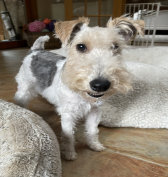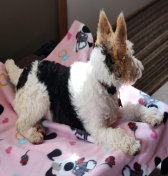 Send Application to:
ccswires@netins.net
TOBY IS
LOCATED IN
TOBY
Meet our newest arrival
to WFTRM. This adorable
guy is Toby. He was stray
with no ID or Microchip,
suspect he had been
running for a while. He
was covered in ticks and fleas, matted with lots of tick bites. He was given a dose of Nexgard to kill the pests, groomed and is feeling so much better. Toby looks adorable with his long curly shaggy look but wow what a handsome boy after a groom. He loved his bath and I suspect he will enjoy a kiddie pool this summer. Toby has been to the vet for vaccinations, Microchip ( just in case he is ever last again) fecal, blood panel, Heartworm test and he is in Great health. Dr. guessed him to be around 3 years old. Toby is doing fine and beginning to calm down. His adventures had him feeling a little frightened, wild and anxious but he knows he is safe now. He loves to curl up and sleep in your bed, on my lap and just generally hang out with his person. We tried a crate for the first couple of nights but he somehow managed to find his way into the bed. He is so sweet and kind of shy, however once he feels secure he gets really playful and silly. He follows me around like a shadow but I hope to help him feel more confident soon. A passive, needy wire somehow doesn't seem quite right. He is very well house trained, Social and loving with people. He does fine with other dogs but only tolerates them. He doesn't play or enjoy them he almost seems afraid of them. He even likes me to go outside with him and prefers the other dogs let him go out alone. He is so pretty with a gorgeous Wire head, long muzzle and nice ear set. He is a real gentleman with beautiful soulful eyes. Toby is looking for a forever home with someone who really loves him and will keep him safe and at Home. Thanks to everyone who helped Toby stay safe and arrive in rescue. We are happy to have him until that Perfect home comes along.
Neutered
Heartworm Tested
On HW Preventative
Rabies Vaccination
Distemper Vaccination
Bordatella Vaccination
Fecal Check
Micro Chipped