WIRE FOX TERRIER RESCUE MIDWEST
Gallery of Dogs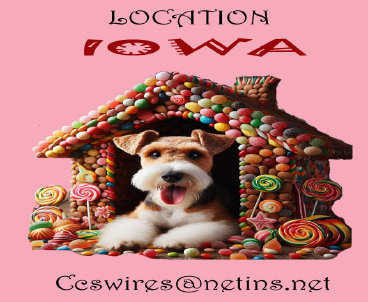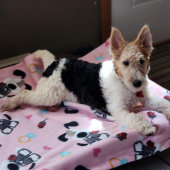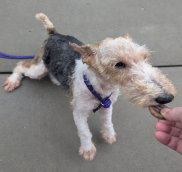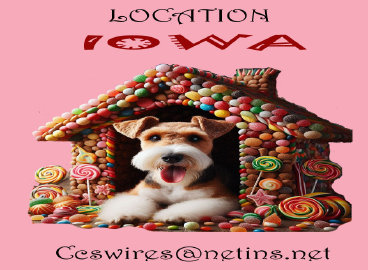 When you choose Rescue, it is you who Blossoms.
CLEO is a tiny Wire Fox girl who weighs 12 pounds if that soaking wet. She has had to survive on her own after being abandoned, infested with fleas that had taken control of her body for quite some time. It is a challenge for her to even get around as a portion of her right front leg is missing. She was hungry, thirsty, tired, scared and coping with 110 degree heat in southern Texas. Her savior Chuck came along to take her in his home and get her medical help. He has terriers of his own and felt instant compassion for little Cleo. Chuck, Susie and Nadia had called her Grace and perhaps by the grace of God she was meant to cross their paths. He posted her story on Facebook and then we connected with each other about getting her to WFTRM. He went beyond the call of duty to get help for this little girl who needs so much care and compassion. Big thanks to Sheila for always being ready to get the transport in gear. Cleo will be forever grateful.
CLEO
CLEO arrived in Chicago and the flea dermatitis was really bad and affected her entire torso and legs which are hairless and skin very warm to the touch. She was given Bravecto and Revolution. Skin scrapings were performed and negative for mites. CLEO had a dermatologist appointment with Dr. Ness at Midwest Veterinary Dermatology. She got her very own new stroller to tool around in while out and about. Some cultures of her skin were taken and sent out and she received a Cytopoint injection for her itching. She will be on Fluconazole for the yeast. The cultures returned with the type of bacteria on her skin and she is now also on Cefpodoxime. Cleo will also get weekly Malaseb baths. Her hair is already beginning to grow back and her skin looking great.


Cleo is painfully thin with her ribs exposed and hip bones protruding. She was given Drontal Plus which is an excellent broad spectrum wormer which also covers tapeworms. She was so very hungry and it appears she has been starved to near death. Her appetite is now normal and she has gained a few pounds. Her bowels are now performing since she is receiving good food. The anal area is very swollen and sore and the vet suspected straining as a cause. As she was getting food in her system and the intestines working, this area has gone down and is back to normal.
CLEO felt vulnerable when she first arrived with her condition and the leg - new people and surroundings. She loves to be outside in the grass if the weather is nice otherwise she is on her purple fur blanket on her bed in the air conditioning. She is not a fan of hot weather. The nightmares she was dreaming have stopped. Cleo had a fasting blood test on June 29th to rule out certain conditions due to blood work done in Texas before moving here. She does not have Addison's or Cushings disease.
Cleo is about 8 years old and she is a typical female Wire Fox Terrier. She is smart, such a joy to watch her hop around and do her thing and is such a wonderful companion. She is a phenomenal car traveller and really enjoys going for rides. Cleo is super for her baths and even hair trims. She has mastered the deck stairs that take her to the yard rather well - such an independent little girl. Cleo will stand on her two back legs when she is getting her food or a treat. She loves to be held and is very calm and quiet. She is a very good natured girl with terrier spirit. This little girl deserves a home that wants to pamper a tiny terrier who had a rough life.
Cleo is missing a portion of her right front leg and the ortho vet stated it was from an injury and not a deformity. What could have happened to her brings horrible thoughts. Once she has regained her strength and healthier, this leg should be amputated properly as it affects her balance and being able to walk. She is also getting sores on the stub end and joint. Cleo also had a very sore bloody bruise on the underside of her throat which is now healed.
CLEO IS
LOCATED IN
Spayed
Heartworm Tested
On HW Preventative
On Flea & Tick
Rabies Vaccination
Distemper Vaccination
Bordatella Vaccination
Canine Influenza Vacc.
Fecal Check
Ears Cleaned/Plucked
Full Blood Panel
Skin Scrapings/Cultures
Growth Removal
X-rays
Ultrasound
Micro Chipped
Send Application to
knierim@msn.com
Cleo had surgery on July 20th for spay and to remove two growths on her nose and neck that were bothering her. She was already spayed which was suspected but now confirmed. Cleo has been doing so well with her recovery up until July 22nd when she started coughing up a white mucus. I brought her back to Midwest Hospital on July 23 where her lungs were clear but prescribed Doxy thinking she caught kennel cough. We had a 3 hour wait that day and Cleo was such a good girl. She was fascinated by a sheepdog puppy and turned around in her stroller so she could stare at him through the back window.
Cleo continued to cough up the white mucus all week and then eventually was feeling down and was not eating or drinking. She had been swallowing this mucus and it has made her sick. She was now throwing up blood. So back we went to Midwest Hospital on July 29 where they hospitalized her. The drew more blood work, did x-rays and radiographs of her stomach and gall bladder. They also performed an ultra sound. Cleo was on I.V. Fluids and was being monitored. There was sludge seen in her gall bladder so she is on ursidiol to clean that out. She is now on different medications to calm her stomach and it is suspected she has gastrointestinal issues from possible food sensitivity. This was a little girl living on the streets with little to no food to who knows what she was eating. She will be getting a special limited ingredient food and take it from there.
Cleo was so happy to see me when I picked her up from the hosptial and snuggled in the snoozer car seat for the ride home. Funny little girl actually stood up when we got to the driveway so she could see we were home! Out on the deck for a potty before heading in she was jumping and in such good spirits. She could not wait to get inside and get her food and nestle in her furry bed.

Cleo is such a great companion and loves to be out and watch you garden and follow you everywhere. We did make a stop at the garden center to pick up a few plants and she was delighted to be in the back of the cart on the thick blanket. This little girl is too adorable. Now to get her feeling well and that tummy back to tip top shape.