WIRE FOX TERRIER RESCUE MIDWEST
Gallery of Dogs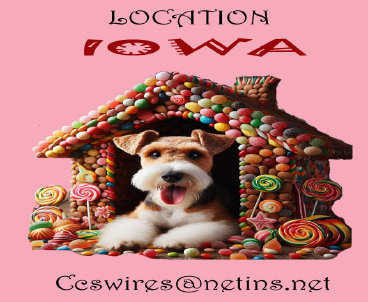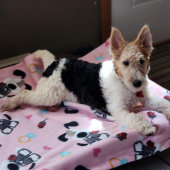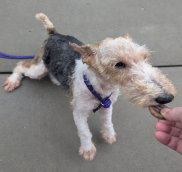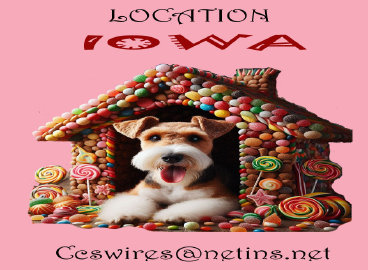 Send Application to:
ccswires@netins.net
TOBY IS
LOCATED IN
TOBY
Meet our newest arrival
to WFTRM. This adorable
guy is Toby. He was stray
with no ID or Microchip,
suspect he had been
running for a while. He
was covered in ticks and fleas, matted with lots of tick bites. He was given a dose of Nexgard to kill the pests, groomed and is feeling so much better. Toby looks adorable with his long curly shaggy look but wow what a handsome boy after a groom. He loved his bath and I suspect he will enjoy a kiddie pool this summer. Toby has been to the vet for vaccinations, Microchip ( just in case he is ever last again) fecal, blood panel, Heartworm test and he is in Great health. Dr. guessed him to be around 3 years old. Toby is doing fine and beginning to calm down. His adventures had him feeling a little frightened, wild and anxious but he knows he is safe now. He loves to curl up and sleep in your bed, on my lap and just generally hang out with his person. We tried a crate for the first couple of nights but he somehow managed to find his way into the bed. He is so sweet and kind of shy, however once he feels secure he gets really playful and silly. He follows me around like a shadow but I hope to help him feel more confident soon. A passive, needy wire somehow doesn't seem quite right. He is very well house trained, Social and loving with people. He does fine with other dogs but only tolerates them. He doesn't play or enjoy them he almost seems afraid of them. He even likes me to go outside with him and prefers the other dogs let him go out alone. He is so pretty with a gorgeous Wire head, long muzzle and nice ear set. He is a real gentleman with beautiful soulful eyes. Toby is looking for a forever home with someone who really loves him and will keep him safe and at Home. Thanks to everyone who helped Toby stay safe and arrive in rescue. We are happy to have him until that Perfect home comes along.
Neutered
Heartworm Tested
On HW Preventative
Rabies Vaccination
Distemper Vaccination
Bordatella Vaccination
Fecal Check
Micro Chipped
CHARLIE
Charlie AKA Curly arrived in Iowa last weekend. He came from an Animal Control in Las Vegas surrendered because his owner went to assisted living. Things didn't look good for this boy, because the shelter found he has a Heart murmur and a small mass on his chest, and needed a dental too. WFTRM doesn't see that as a problem. Charlie went to the vet a week after he arrived for a full cardiac workup and Blood panel to determine if it is safe for him to go under Anesthesia. The cardiac work up determined that Charlie's Mitral Valve that isn't working properly. The valve doesn't close properly and it causes a swish sound when Dr. listens to his heart. He is on med. to help open the arteries lessening any strain on his heart. He can live a long time with no complications it is common in older dogs. Charlie can run and play with no clinical signs. He also had full blood panel and blood work is great. He had 2 infected molars that have been extracted this will also help the Mitral Valve to clear up infection from the teeth. The small mass was removed and determined to be Lipoma ( Fatty Mass) Charlie is actually in great condition and health. Charlie arrived with a happy smile and hasn't stopped smiling. He is like an adorable, smiling, cuddling Teddy Bear Cub. Perhaps it's the Big round brown eyes that melt your heart or it could be his loving happy attitude. He is so sweet and never demands but asks politely, with a paw or bark at me. Charlie is a special guy and a wonderful companion. He is around 8-10 years young with so much love to give. Charlie makes few demands but he insists on a crate, his happy place, prefers the door open but if you shut it that's ok too. He does like to chew his blankets, leash or harness if he is nervous. I gave him some big fluffy towels and he is happy. He has not been nervous or chewed since the first night here. He also Loves to eat but he is a tad chubby. He has been cut back on amount and eating Fresh Now senior weight management. He also loves treats. He is a cooperative fellow house trained, loves other dogs and People. Walks are a happy time for him. Charlie will jump on my lap and snuggle, likes belly and neck rubs. He has a beautiful Harsh wire coat but round eyes and short wide muzzle lead me to think Charlie is a mix, possibly Schnauzer? Whatever his breeding he is a lovely, sweet, wonderful companion who will make someone very happy if they are lonely for a snuggle pup who is a perfect companion.
CHARLIE IS
LOCATED IN
Neutered
Heartworm Tested
On HW Preventative
Rabies Vaccination
Distemper Vaccination
Bordatella Vaccination
Fecal Check
Full Bloodwork Panel
Urinalysis
Cardiac Work Up
Full Dental Cleaning
Lipoma Removal Surgery
Groomed
Micro Chipped
Lexi is the eptiome of a Wire Fox Terrier. She loves to follow you around everywhere, go in the car on all your errands, go for long walks and nose around the neighborhood. Lexi is social and loves people and having them fawn over her. She is a cuddler and snuggler and truly a best friend. Going to daycare three days a week she plays well with all the others – especially the boys she has a great time. Her prey drive is operational and an invisible fence is no match for her – she will blast right through it no problem chasing after wildlife. Lexi is well mannered, trained and very trustworthy so crating is not necessary or shall we say an option. She will scream bloody murder if put in one. Her only other dislike . . . the other female Wire Fox currently in the house. She had been an only dog since a puppy and was rehomed about 6 months ago to her current home that has a female Wire. She is not one to share the home or the attention. Lexi is 6 years old and weighs 20 pounds. She is up to date on her vaccinations and vet care and takes Heartgard and Nexgard monthly. A secure fenced yard and someone home most of the time would be ideal for this busy girl. Lexi is living in Maine and her current mom would love a home nearby on the East Coast. She is a lovely little girl who has the best personality and spunk and will make empty Wire Fox home come alive once again.
LEXI
Send Application to:
ccswires@netins.net
LEXI IS
LOCATED IN
Send Application to:
knierim@msn.com
Spayed
Heartworm Tested
On HW Preventative
On Nexgard
Rabies Vaccination
Distemper Vaccination
Bordatella Vaccination
Fecal Check
Groomed
Micro Chipped