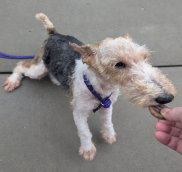 There is a boy everyone should meet. His name
is Doobie and he will break your heart. He will teach compassion, empathy and personal responsibility and that abuse and neglect is never acceptable. I have changed his name to Doobie as it is a whole new life with a new calling. He was living with his owner and her boyfriend when he was tragically allowed to be hit by a car in April 2020. He was taken to a vet clinic after the incident and unfortunately was the only medical visit he had. Doobie sustained a spinal injury and contusions. The report also reflected an "old" fracture and trauma. For the past year, he was left to languish in pain in confinement in this home. He was treatable last year had he gotten medical attention, therapy and possible surgery. No time for him was one of the excuses and busy working and simply could not be bothered. Rather than find a Rescue for him last year, they chose to just ignore him & his cries by locking him in confinement. Doobie is matted to the skin with clumps so large they are difficult to cut off. He has urine burns covering his entire stomach, his ears are badly infected, he struggles to get up & move around due to his back end. His back legs are simply not working for him. He wants to be mobile so bad and drags them behind him. There seemed to be no one who wanted to take on such a project and help this boy. I just could not look the other way and he needed to get out of his environment asap. Doobie is a Wheaten Terrier who according to the only record from last April was 3 years old. I would estimate him to be more like 4 - 5 years old. He was transported to WFTRM and when the rescue team met to take him, his owners opened the door and let him fall out the car and onto the ground. No collar, no leash, no belongings except for a filthy rag that was supposed to be his blanket. They had tried to use scissors to quickly cut the hair on his face. Those big brown expressive eyes showed relief that he was on his way to Rescue.
Send Application to
knierim@msn.com
WIRE FOX TERRIER RESCUE MIDWEST
GALLERY OF DOGS
DOOBIE
Neutered
Rabies Vaccination
Distemper/Lepto
Bordatella
Canine Influenza Vacc.
On Flea & Tick
Heartworm Tested
On HW Preventative
Fecal Check
Ears Cleaned/Plucked
Cytology
Cytopoint Injection
Acupuncture/E-stim
Neurological Exam

Doobie is a very energetic Wheaten Terrier boy who wants to run and play with toys. He is not going to let his handicap get in the way of enjoying life. He wants to be where the action is and part of a family where he is loved. He loves his furry dog beds and blankets, people food and eating snow. Toys bring him so much joy and he has a black belt in removing squeakers. Picking out just the right one from the basket and spreading them on the rug too. Doobie follows me everywhere and watches me with his big brown soulful eyes. He weighs 46 pounds, has a big black bear nose and a loving disposition. He is passive and friendly with everyone, loves all the dogs here and they like him too. When they get excited or start grabbing toys, he wants to do the same. Doobie loves people so much and tries so hard to give them a Wheatin' Greetin but since he cannot get up to the face, he pushes and rubs on them while his tail buzzes. He is such a funny character with a genuine happy go lucky spirit who makes you smile and laugh. You cannot help but want to love on this big sweetheart.
February 5, 2021 was the vet visit for Doobie's vaccinations, tests and exam. His ears were horrible neglected with impacted hair, debris, bacterial and yeast infection. The quicks on his nails are very overgrown. We are tag teaming him to clean and then put ointment in his ears. He would scream if you touched even his flap so this was a daunting task. Doobie has had two follow up visits and cytologies. The most recent was March 19 and the infection is cleared up. More hair was plucked again by the techs and he is on a weekly x 3 cleaning schedule. He continues to have issues with his right ear and brown gunk and is a chronic condition due to his past neglect.


February 3, 2021was the consult with neurologist at Arboretum View Animal Hospital. It was reported that he likely had a traumatic disc herniation after his accident and that the window of opportunity for surgical treatment would have been last year. Also reported that he does not have any deep pain sensation in his back legs but he can move his back legs when supported. Therapy was recommended.
February 12 consult with Rehab & Therapy. They were able to obtain the x-rays from the vet clinic who saw Doobie the night of the 2020 accident. They feel too that his opportunity had passed. The nerves are damaged with his degenerated spinal injury and they felt therapy treatments would not benefit him. He has movement, sensation and can stand himself up but moving forward is a challenge.

Doobie's Help Em Up Harness arrived. It might be better for less enthusiastic patients. He wants to plow full steam ahead taking you with him. His camo wheel cart is the best mobility tool for him.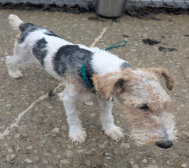 DOOBIE
THERAPY
REPORT


Found a groomer willing to give him a try but 15 minutes after drop off received a call to come get him. He is too excited, bouncing around and likes to tink when anxious and happy. We have tried clippering him at home but he needs a full service. Will keep searching for someone to accept him.


I truly believed the acupuncture and other therapy methods would benefit Doobie. We were so thrilled to have our first visit on March 17. He had acupuncture with electrical stimulation and did well but got mouthy in a certain area so next time he will wear his new basket muzzle. The wheel cart is the way to go with all his appointments and leaving the belly band on in case he has his happy leak. Doobie has multiple sessions and sadly there was no improvement and his back feet started to knuckle over.

Doobie is still hanging out here in Rescue with his Chicago friends and believes he is part of the pack. He is not fond of sharing his big beds with the Bedlington Boys and does a lot of sleeping. He has a bed in the kitchen and one in the back bedroom just his size. His spinal injury has progressed to both his back legs essentially being paralyzed and moving up the hip area. His kidneys are not functioning and he wears a diaper 24/7. We are on the Costco size repeat shipment for poise pads. He has no control and no idea what is happening. What he does know is happening is the refrigerator door, the snack pantry or anyone that has a plate of food. Doobie loves his chicken every morning.

Doobie is content for now and eating – his body is succumbing to the spinal trauma and whatever internal injuries he may have sustained. While it is not promising news it is what was expected after he arrived at Rescue in January. We want to think they all can be saved but many need a caring and loving Hospice home where he can be happy. He deserves a home to love on him until his time. Doobie loves everyone and sends all his friends big Wheaten Greetin Kisses and Rubs.