WIRE FOX TERRIER RESCUE MIDWEST
Gallery of Dogs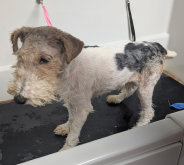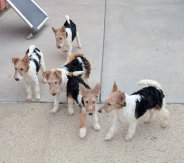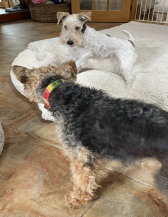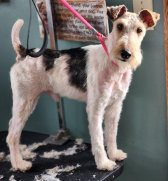 Send Application to:
knierim@msn.com
DANDY IS LOCATED IN
Neutered
Heartworm Tested
On HW Preventative
On Flea & Tick
Rabies Vaccination
Distemper Vaccination
Bordatella Vaccination
Canine Influenza Vacc.
Full Blood Work Panel
Urinalysis
Fecal Check
Worming
Ear Clean & Pluck
Micro Chipped
Dandy and his pal Dazie were rescued and
just in the nick of time. They both would
have died had it not been for the super smart
Wire Fox boy who saved the day. In a mobile
trailer in rural Kentucky two little dogs were
locked inside after the owners of the trailer
were taken to jail. As each day passed, the temperature in the trailer was rising and getting hotter and unbearable. When Animal Control Officer arrived to do a wellness check, little Dandy appeared from under the trailer. He had chewed a hole in the floor as an escape for him and his friend. Only his friend Dazie, a 5 pound Chihuahua, was too scared to leave the trailer. He led the Officer back to the trailer alerting him that there was his friend inside. The Officer was able to pry open a window, punch out the screen and little Dazie jumped in his arms. She was very hot and we were told any longer she would have perished. He said little Dandy just sat by his side and watched the rescue of Dazie unfold.

Wire Fox Terrier Rescue Midwest is so grateful to the Animal Control and in working with Rescue and for WFTRM amazing team members Betty and Richard. When Betty and her neighbor Sandy arrived at the Animal Control, they brought both Dandy and Dazie home. We could not leave her behind. They took them both immediately for flea baths and treatments as they were loaded with fleas. It was a beautiful day for both dogs but especially Dazie as when her eyes and Sandy's locked – it was love and admiration. Sandy is adopting little Dazie – she is scheduled for her Spay surgery this month and will be in tip top shape. She does not leave Sandy's shoulder and gets kissed probably about 100 times a day. Little Dandy is now up at WFTRM in Chicago and we have a very good feeling that he is somehow related to the fabulous Fabio. He is such a sweetheart!
DANDY
Dandy is just darling but he can also be a dickens. He is young, playful, loves to tease and run and chase and have fun. He also loves to cuddle and kiss and be with you all the time. He is such a smart boy and his problem solving skills not only are evident by him escaping the trailer, but he can also open any gate with ease. He can scale a 5 foot chain link fence (going for a cat) and will slip out the door. Dandy is also a good boy and knows sit. Although he did what he did to escape a certain fate, he is well mannered in the house and does not chew or take things he should not have. He will paw at the door to go outside and does not try and escape here. He has the most precious face and eyes that will melt. Dandy thrives on being with people and not being left alone or abandoned. He wants to snuggle right up with you in bed and that makes him feel safe and loved. He is good with other dogs but can play like a typical Wire Fox mouthing at tails and rear ends to bring on a chase. Dandy must be related somehow to the infamous Fabio as he has the same look and personality. They are about the same age too at 18 months old. He will get on my desk and stand on the printer and thinks he is a goat. He loves toys, pulling them all out of the basket and carrying them around. Dandy is such a dream boy and one in a million. He does need house training reinforcement, someone to work with him on more obedience and lots of bonding time and a secure fenced yard. He will need someone home quite often and not working full time and an owner who is devoted to him and making him the center of their universe. Dandy is darn near perfect for a Wire Fox boy and so I am looking for the same with his home.