WIRE FOX TERRIER RESCUE MIDWEST
Gallery of Dogs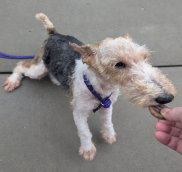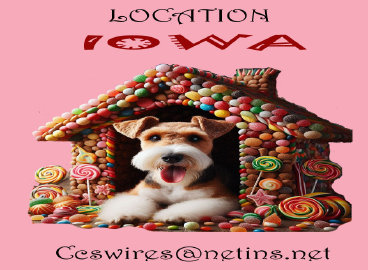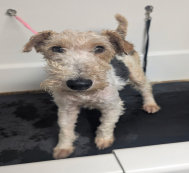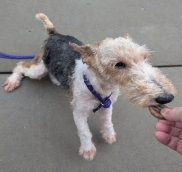 CRUZ
There has been a bit of a mystery with Cruz in that when Vicki returned home with him after getting a Rabies vaccination, he experienced a strange almost seizure like behavior. Not knowing whether he was reacting to the vaccination and wanting to be safe than sorry, she took him to Veterinary Specialty Hospital in Tuscon where he was admitted overnight for observation. After x-rays and blood they found no evidence that he has epilepsy. Wanting to be cautious we put him on Keppra until he gets to Chicago. It has no side effects and can be stopped once we feel it is a good time. Being a stray in the hot dessert climate his body could have been reacting to a number of things. Heat stroke, bitten by something or even the vaccinations received at the two animal controls.
Cruz has been to Midwest Animal Hospital and received his surgery for neuter and also a growth removed on his right shoulder. He also had a full dental cleaning with no extractions and is doing great. The only blood levels that were slightly off in Tuscon pertained to red blood cells and after a recheck blood panel, those have come up close to normal now. He is now micro chipped, Heartworm test was negative but fecal returned with Hookworms which he is being treated for. Cruz is so happy to be in rescue and loves being massaged behind his ears and on his upper back. He is the sweetest boy you ever met and you cannot help but fall in love with him.
Neutered
Heartworm Tested
On HW Preventative
On Flea & Tick
Rabies Vaccination
Distemper Vaccination
Bordatella Vaccination
Canine Influenza Vacc.
Fecal Check
Ears Cleaned
Full Blood Panel
X-Rays
Growth Removal
Full Dental Cleaning
Micro Chipped
Send Application to
knierim@msn.com
While on a stop for dog food there was a display of Halloween outfits and toys. Could not resist getting this for Cruz.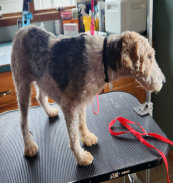 CRUZ IS
LOCATED IN
CHICAGO
The much anticipated arrival
of CRUZ has come and he is
now safe and happy in Chicago.
He was named after where he
was found as a stray by Santa Cruz Arizona Animal Control wearing nothing but a red bandana. Their facility was overcrowded so Sierra Vista Animal Shelter took him in. They too became over capacity and were ready to make some hard decisions. The director was very accommodating and great to work with and I asked her to give me a day to find a volunteer to pick him up. This rescue mission was filled with monkey wrenches, twists and turns and Thank Heavens for two amazing WFTRM adopters in Tuscon for their sacrifices, dedication and patience! Vicki who drove down to Sierra Vista to pick up Cruz and bring him home. Her two Wires welcomed him in the fold and he was brought to the vet for a Rabies and Health Certificate for travel. Our transport connection was in Albequerque, New Mexico and thanks to our second angel and WFTRM adopter Kathi who with her friend drove Cruz from Tuscon to Albequerque – a drive over 6 hours and required an overnight at a hotel as well. Amazing and bighearted is the least I can say about Vicki and Kathi for everything and this Rescue.
Cruz is so handsome and striking and has a mask of caramel brown from the top of his head around his eyes. Very unique and cool almost like a bandit. He is a very friendly guy with everyone he encounters and his tail tells a tale. His big beautiful brown eyes are mesmerizing and asking will someone love me? Cruz is a very good boy, obedient and loves to be with and around you. He is quiet and has an innocence to him that makes you want to just hug him and keep him safe and loved. He sure enjoys sleeping on the bed with you and fancies napping on all furniture. His laid back demeanor and tail wag continues even after getting a growl or two from another Wire Fox. Cruz gets very excited when he sees you get a leash or a harness so he must love to go places and for walks. He was a great car traveler and loves looking out the window. Cruz is about 7 years old, weighs 21.2 pounds and so thankful to be Rescued.