WIRE FOX TERRIER RESCUE MIDWEST
Gallery of Dogs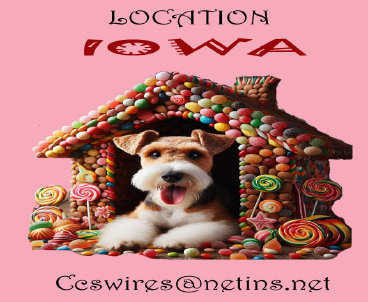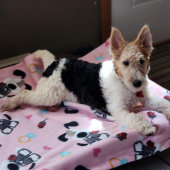 Send Application to:
ccswires@netins.net
FELIZ IS LOCATED IN
Neutered
Heartworm Tested
On HW Preventative
Rabies Vaccination
Distemper Vaccination
Bordatella Vaccination
Fecal Check
Ears Cleaned
Micro Chipped
FELIZ
Feliz is a handsome Happy lad who is always ready for an adventure. He loves to run zoomies, play with toys especially noisy toys. He seems to be a very alert boy who misses nothing and is always wearing a smile. He loves his sister Jolie and takes good care of her. Feliz is doing very well with house training, however not quite there. He seems to enjoy walks on a leash. He is crate trained and sleeps in his crate at night. Daytime he and Jolie play in a large exercise pen unless I am free to keep an eye on him. Feliz likes to chew so he has many chew toys and bully sticks available to satisfy that chew instinct. Feliz has the most adorable personality he is sweet and loving. They both have wonderful temperaments and love people. They were perfect little angels on the grooming table too. Feliz is in perfect health, neutered, vaccinations are up to date, fecal checked microchipped and ready to look for that wonderful family. He requires a secure fenced yard, experienced family, someone who is at home to work with him and train. He can't live in a cage 8 hours a day.
When you choose Rescue, it is you who Blossoms.
JOLIE
Jolie is a beautiful Puppy who was born on 6-11-17. She is in great health and weighs 17 pounds. She is a busy playful girl who is pretty typical for her age and Breed. Jolie and I are working on house training she is doing really well but it is a work in progress. She is doing well with leash walking still needs practice. She is crate trained, sleeps in her crate at night. Days we use an exercise pen if I am not able to keep an eye on her. Puppies are curious and can get into trouble. Jolie and Feliz are best friends. He is her brother. They also do well separated and with other dogs. Jolie is the more shy of the two but is definitely coming out of her shell. Jolie is spayed, all vaccinations are up to date, Fecal checked, microchipped and ready to embark on that special journey to a forever home. They are both delightful babies and so pretty harsh wire coats and beautiful colors. Jolie requires a secure fenced yard, someone who is at home and has the time and experience to work with a Wire Fox baby. She would not be happy home alone in a cage 8 hours a day.
JOLIE IS LOCATED IN
Spayed
Heartworm Tested
On HW Preventative
Rabies Vaccination
Distemper Vaccination
Bordatella Vaccination
Fecal Check
Ears Cleaned
Micro Chipped
Send Application to:
ccswires@netins.net
ASPEN
Aspen arrived in Iowa from a Ranch in Colorado. He was owner surrendered because of owners life change. He is a gentleman, quite stylish, refined and debonair with a gentle loving nature. He is going to be 4 years old in February. Aspen is ready to Jump into the arms of a loving new family who has plenty of time to snuggle, play fetch and training. He is so well mannered and loving. He arrived rather anxious and frightened, poor guy hasn't spent any time off the ranch so he needs socialization. Walks, Car rides new experiences to gain confidence to face new situations and people. He has a great attitude and loves to cuddle once he gets to know you. He is my shadow now that he feels safe. He is so handsome, his beautiful eyes melt my heart. Seems to like the other dogs here, but I am sure he would love being the only dog in his new home. Aspen is house trained, crate trained needs work with Leash walking. Welcome my new little dude Aspen He is a Star.
ASPEN IS LOCATED IN
Send Application to:
ccswires@netins.net
Neutered
Heartworm Tested
On HW Preventative
Rabies Vaccination
Distemper Vaccination
Bordatella Vaccination
Fecal Check
Ears Cleaned
Micro Chipped