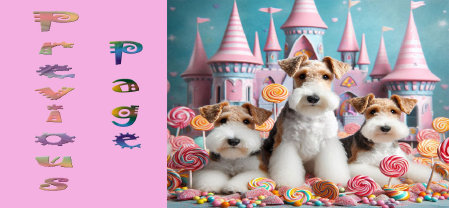 BONNIE
Let me introduce Miss Bonnie, who joined WFTRM in Iowa last Monday. Bonnie is the mom of the two babies, Gaga and Bop. Bonnie is so happy to be here in rescue. I have never met a sweeter, smiling, happier girl. She constantly runs up to me asking for hugs and gives my hand a quick kiss. She is over the moon happy to be here, free from a cage. Bonnie knows her life has changed for the better. She loves to run and play in the yard. Luca seems to be her favorite BFF. She likes all the other dogs here in her foster home, but Luca is her bestie I wonder if they share stories of their former lives as breeding dogs in a cage? Bonnie has seen both sides of life, but she isnít as cautious as Luca. Bonnie is so social and loving. She was immediately comfortable in the house. Loves a lap, toys and understands treats. I almost wonder if she was at one time someoneís pet who ended up in a very dark place. She wasnít great as a breeding dog so they dumped her. This is all a guess based on her behavior. Dogs do tell a story if we watch and listen. Dogs live in the moment so Past really does not matter does it? Bonnieís life is great now, all of her moments are awesome and now she is ready to begin her journey to find a loving perfect Forever home. She is a gem and her new family is going to be lucky and Blessed to have her. Bonnie was born 5-28-18 She will be celebrating her upcoming birthday very soon. We plan to make sure itís a Happy Birthday. Lots of new toys, treats and surprise. Bonnie weighs 19 pounds so she is a pretty average size girl. She is doing Great with house training, sleeps in her crate and runs and plays all day. She eats well and loves Grandma Lucy cookies. She had a thorough check up at Avenue of the Saints. She is in great health, spayed, fecal check, 4DX heartworm checked, full blood panel, dental, vaccinations and she is chipped. She is ready to roll once we make that perfect match in a forever home. We do need an application from the website as a first step in adopting.
WIRE FOX TERRIER RESCUE MIDWEST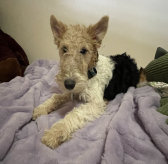 GALLERY OF DOGS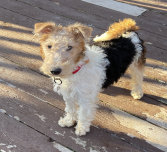 Spayed
Rabies Vaccination
Distemper/Lepto
Bordatella
Heartworm Tested
On HW Preventative
Fecal Check
Bloodwork Panel
Dental Cleaning
Micro Chip
Grooming

Send Application to
ccswires@netins.net
BUNNI
Look who hopped into WFTRM in Iowa. Bunni aka Bunni Bun arrived last Sunday all the way from Tyler Texas. She is a very sweet special girl who is deeply loved by her previous humans in Texas. Bunni was sadly surrendered to WFTRM for her best interest. Her family loved her but could also see they were simply not the best home for a Wire Fox. Bunni was constantly overwhelmed and frustrated in the lively home with 3 small children, another female canine, cat, ducks and chickens. Bunni is a typical true Wire Fox Terrier bred to hunt and be in charge. This trait didnt bode well for the cat ducks chickens or the other female canine. Bunni like most Wire girls is also great at standing her ground. All of that frustration is behind her. We are looking Forward to finding Miss Bun Bun her Perfect Forever home. Bunni was born on May 30th 2018. She is spayed, vaccinations are up to date, blood panel says Perfect values, Heartworm tested negative, fecal negative and she is microchipped. Bunni is a tall girl, weighs 27 pounds really ideal body score. She is all muscle and a beautiful girl. Bunni is a calm easy house guest. She prefers to lay on the back of the sofa near a window. She loves to watch the outside activity from a comfy chair. She is House trained, walks nice on a leash and is a great traveler. Bunni is happiest outside if I go along. She watches to see if I'm coming. Her favorite game is fetching her ball or tug with a rope toy. She has been known to steal stuffed animals and remove eyes, ears and stuffing She is a big help watering the flowers bites the water from the hose. She needs to retreat inside with lawn mower, weed eater or noisy leaf blowers. The noise puts her in attack mode She is not an excessive Barker and has a soft bark sounds like a seal. She has become quite social with meeting people can be trusted with free range of the house when I leave. I do not trust Bunni with other dogs. She growls to say back off I dont want to play. Bunni will do best as only dog, No cats or other small animals. She would do ok in town home or condo without a big yard. She would run so a leash will always be required or of course a secure fence. No running off lead for this inquisitive princess. Bunni is ready to begin her journey to a Forever Home. We would love to have your application if you feel Bunni is the girl for you.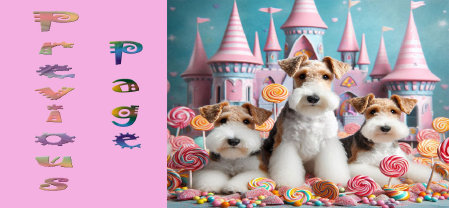 Send Application to
ccswires@netins.net
Spayed
Rabies Vaccination
Distemper/Lepto
Bordatella
Heartworm Tested
On HW Preventative
Fecal Check
Bloodwork Panel
Dental Cleaning
Micro Chip
Grooming