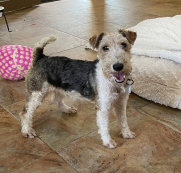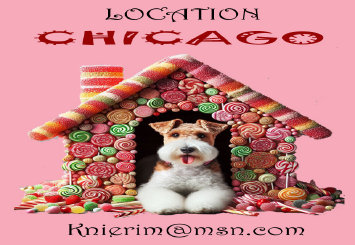 LACIE IS
LOCATED IN
Send Application to:
ccswires@netins.net
WIRE FOX TERRIER RESCUE MIDWEST
Gallery of Dogs
PUPPY MILL RESCUE
Sadly there was another Puppy Mill Auction in southwest Missouri and listed were three Lakeland Terriers. Although there are auctions every 2 weeks or so, we have not seen any Terriers posted in a very long time. They are not the breed of choice for puppy mill operations – not all that popular, do not cooperate, escape risks, cannot put multiples in the same cage and will fight with the other dogs. Dogs who are prisoners of greed for puppy mill operations, commercial and back yard breeders have to endure horrific conditions, no human interaction and little to no food. These auctions are attended by mostly other breeders and Amish looking to add to their stock and also rescues either through a bidding rep or under cover. Their torture will continue should they go to another breeder and the lucky ones are those that are Rescued.
WFTRM was successful in their bids for the three Lakeland Terriers. Gwen and Scotch were 3 years old. They have both been fully vetted and received their surgeries and have been adopted to loving homes. Lacie is 9 and diagnosed heartworm positive and has been going through treatment. She is almost ready for her Forever Home.
Lacie was born
June 7, 2007 as
Foxfire's
Albinka's Red Lady.
She was apparently
born and imported
into the USA. Her pedigree (Sire and Dam) have Russian, Polish and Spanish Champions. How she ended up in a Puppy Mill in Missouri we will never know but what we do know is that we are thrilled she is going to be allowed to be pampered, loved and spoiled from Saturday forward. She is very social, happy and does the most adorable Lakie prance ever and loves being free and races around the yard. It is just amazing how comfortable she is in the house, on the grooming table and coming in and out of doors. She walks like a pro on a leash - all very unusual traits for a Puppy Mill dog. I think some of her old training stayed with her. She is amazing with all the other dogs and is so tiny at 16 pounds. Lacie has a beautiful Red Grizzle color. She went to Avenue of the Saints Hospital and sadly Lacie tested positive for Heartworms and she has since been staged at a 3. This means her heart is enlarged and will need to undergo 3 treatments at 30 days apart. She has been doing well and on her last injection of treatment and this close to being ready for her forever home.
Patrick is a precious bundle
of Fluffy sweetness, mischief,
innocence, Love, frustration
and joy. Puppies are adorable
and this little guy is no
exception. Wire Puppies are
the cutest ever. Patrick was born on Jan. 29,2017. He was advertised on Craig's list so I called and purchased him. My goal in this is to help Patrick land in the right Forever Home. He will require a fenced area to play in, someone who doesn't work 8 hours a day and leave him home alone. He is used to having us around 90% of the time, has never been crated so he would be miserable in that situation. I am looking for someone with Terrier experience and another dog who likes a puppy would be fine. I want him in a perfect forever home where he can live out his life loved, enjoyed, and trained to be all he can be. Patrick is in perfect health, is very used to playing with older adult dogs. He has had an amazing start in life here so he is fearless and full of himself just as a proper Foxie should be. He has been loved, snuggled, fed a great diet, vet checked, wormed, microchipped, vaccinations appropriate for his age. Patrick has been pronounced in perfect health. He has learned to sleep alone in his room :-) knows what a leash is and is the most social butterfly ever. House training is still a work in progress. Many people feel they want a puppy but not everyone has the time to invest in helping them grow up to be Canine good citizens, well as good as a normal Wire Fox Terrier can be. They are always ready to move on the next adventure, full of tenacious all about me attitude. They are wonderful for those who know and love them however Foxies are not for everyone so please research the breed before you decide on one.
LACIE
PATRICK
SKITTLES
There's a New Girl in town. Her name is Skittles and she is as sweet and colorful as her name implies. Sweet, happy, funny and full of Foxy pep. She loves to play with her friends here too especially Patrick the puppy. We have lots of laughter around here with Lacie, Skittles, and Patrick such a comedic group of Terriers. Skittles arrived yesterday seems happy to be here. She slept in a doggie bed with run of the house, not a peep out of her. She is 6 years old and in great health. All of her vet work is up to date, Micro chipped and she is on Heartworm prevention. She is as cute as can be with nice colors. Skittles needs a home with someone who is home most of the time. She was surrendered because she does not like to be alone. She enjoys patrolling the yard so a fenced yard is required for her. She loves walks, car rides, plays fetch and is perfect with house training. Skittles will add love and laughter to her Forever Home as long as they have plenty of time to give her. She loves people, attention and does the cutest happy Dance.
PATRICK IS
LOCATED IN
SKITTLES IS
LOCATED IN
Send Application to:
ccswires@netins.net
Send Application to:
ccswires@netins.net
Spayed
Heartworm Tested
On HW Preventative
Rabies Vaccination
Distemper Vaccination
Bordatella Vaccination
Fecal Check
Micro Chipped
CURLY
Curly is on his way to WFTRM in Iowa. He was found as a stray and wound up in animal services in Las Vegas and needed help. He will get a full vet check up and services, a name change, a nice bath and grooming and get lots of love. Stay tuned for the reveal of the new Curly.