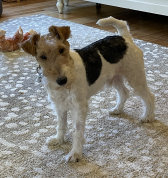 WIRE FOX TERRIER RESCUE MIDWEST
Gallery of Dogs
MOCHA
Mocha is retired, and she'd like an owner who is retired too! Ten years young, and still full of terrier spunk, walks are her favorite thing! She walks well on the leash and will meet and greet any size dog with manners and confidence. She is house trained but loves the great outdoors. She loves to chase the ducks back into the pond - where they belong! She is so curious about everything that she will bolt right out the door and visit the neighbors, so she needs a vigilant owner. She enjoys a good bone and has beautiful white teeth. She will also share your coffee and your yogurt too!
Mocha was rescued 15 months ago from a family that no longer had time to care for her. She found a new home where she had undivided attention and unlimited walks, but a recent job change means that Mocha now spends her days home "alone" with two large aussie shepherds, while her loving mom is at work all day. Several days ago, her momís roommate suffered a traumatic fall; now home health nurses and rehab therapists are in and out - just too much confusion and anxiety for an old terrier. After all, Mocha prefers to be the center of attention! Wanting the very best home environment for her, Mochaís mom enlisted the help of WFTRM Midwest to look for Mochaís new home. We are looking for a retiree, retired couple, or someone fortunate to work-from home. Mocha adores men! Mocha is currently living in Florida but may soon be moving to NC to a foster home. She is spayed, up to date on all her medical, and ready to relocate for that perfect Forever Home and lucky new owners who would like a wonderful Foxy girl to add laughter, love and companionship to their life.
Spayed
Heartworm Tested
on HW Preventative
On Flea & Tick
Rabies Vaccination
Distemper Vaccination
Bordatella Vaccination
Micro Chipped
Send Application to:
ccswires@netins.net
MOCHA IS
LOCATED IN
MURPHY
Murphy is one of the most gentle, loving, happy adorable Foxies ever. He is simply adorable with no issues at all except one he can't control. Murphy was born with a Heart Murmur. When he was taken to the vet, the murmur was found, WFTRM always tries to do all vet work. We decided since he has a Murmur that we really should find out why so off he went to a specialty Hospital for an Echo Cardiogram. Murphy had a really good report as far as longevity goes but he will do best on his meds once a day for the rest of his life. This seems to scare off many prospective homes and it's a shame because he has NO symptoms or problems. Murphy is an active sweet little busy body. He has this adorable Foxie face that melts my heart. He is like a little busy body always checking to see what is going on. What everyone is doing ? He is so funny. Murphy kind of reminds me of a cute cartoon dog. He is amazing with other animals. Sleeps in his bed at night. Murphy has free run of the house when I leave. He is such a good boy. Loves to just hang out with me. He walks nice on a leash and can run serious Zoomies at least a few times every day. His favorites are the Kiddie Pool, Balls, squeak toys and tons of snuggle time. Murphy has been neutered, all vaccinations, full blood panel, Dental, HW tested, Micro chipped and doing wonderful. He was picked up as a stray originally in Oklahoma so his age is an educated guess by the Vets who have seen him somewhere around 5 to 7. I do know he is a wonderful comical loving little dog so deserving of a home all his own or maybe with a canine companion too? Murphy is waiting and he will reward his new family over and over with Foxy love and antics.
MURPHY IS
LOCATED IN
Send Application to:
ccswires@netins.net
Neutered
Heartworm Tested
On Heartworm Preventative
Rabies Vaccination
Distemper Vaccination
Bordatella Vaccination
Blood Work
Fecal Check
Cardiologist Workup
Micro Chipped
JAG
Jag is the newest arrival in Iowa. He is a handsome fellow and he knows it. Always amazes me how each dog who comes has a distinct personality. Jag is quite sure of himself, proud, dignified with just a touch of humor and mischief, when he wants to get playful. He enjoys the company of my girls in foster but he owns his territory with other males. Jag needs to be an only dog in his new home. Jag wants to be the Only male in his turf. He is very affectionate with people and would make a perfect companion for a gentleman who wants a steady loyal friend. Jag spent most of his life in a kennel, as a stud dog, but that ship has sailed now. He is neutered but has maintained that proud dignified manner. He absolutely loves squeaky toys and will do most anything to have one tossed his way. I am working to convince him it's more fun to give it back. He likes to play in my kiddie pool, and seems to enjoy a bath. He Loves back and neck rubs. He is a beautiful Foxy who is in perfect health., born 3-12-07 and is AKC registered. He is all finished up at the vet with full blood panel, dental, vaccinations, neutered, fecal check, and microchipped. Walks nice on a leash and really enjoys human interaction and wants to bond. Jag needs someone who is patient, loving but firm. He is learning basic commands and house training He is a quick study in both areas. Jag is well crate trained and keeps his house very clean. He is a loving guy who will sit by your side for hours, follow you around and smiles these days. He is a love and waiting to find that loving forever home with someone who needs him as much as he needs them.
JAG IS
LOCATED IN
Neutered
Heartworm Tested
On Heartworm Preventative
Rabies Vaccination
Distemper Vaccination
Bordatella Vaccination
Blood Work
Full Dental Cleaning
Fecal Check
Micro Chipped
Send Application to:
ccswires@netins.net
Love is the Flower you've got to let Grow. ~ John Lennon