BELLA ROSE
BELLA ROSE is beautiful both inside and out. She is a smart, well behaved young lady who is busy and curious. She has pep in her step with a bouncy prance. She loves toys, biting the hose, and has a slim figure for a girl who loves to eat. She will ask to come up on the bed or furniture which is very polite. Bella Rose loves to be with her people and hanging out and spending time together. She is not clingy and is more independent than her brother. She rides nice in the car, walks on the leash very well and just a sweetheart. Bella Rose was born January 5, 2016 and was acquired as a puppy. She is a nice compact little 20 pounds and has a lovely coat although had been recently shaved. Nice and coarse and a lovely patch of brown and black on her neck. Her ears are perfectly folded. She arrived at WFTRM Chicago with her pal Bucky after their life was tragically turned upside down. She lived in Florida with their Dad who suddenly passed away and both were in the house for over a week before Dad was discovered. They have been through a scary experience with lots of changes. They went to a family friend first until WFTRM could pick them up and keep them safe. She received good care and was very much loved. They were allowed to be in charge and run all over and had a doggie door. A little structure and routine will do wonders and they look for that as well. In 2021, Bella was diagnosed with Uveitis in her left eye and now has sclerosis. She probably should have seen an ophthalmologist for aggressive eye drop treatment but did not so it progressed.

Bella was also diagnosed with a higher heart murmur around the age of 4 years old. On October 6, 2022 she went to see Dr. Leuthy at MedVet in Chicago for a full cardio workup and echo. A diagnosis is finally revealed for this sweet angel. She has Hypertrophic Obstructive Cardiomyopathy which is a rare form of heart muscle disease in dogs. It is characterized by a thickening of the walls of the heart. Her left vetricular outflow was adequate and the atrial was normal. It was recommended she stay on the Enalpril daily. There is no further treatment and no special diet for Bella. She would benefit from strenuous exercise restriction which she would like as cuddling and curling up next to you is her favorite past time. She is such a good girl, gets along with other dogs and a sweetheart. She just needs a home to love her and enjoy her company.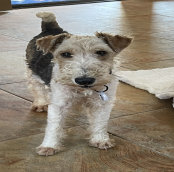 GALLERY OF DOGS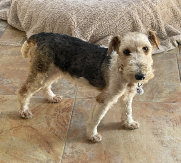 Spayed
Rabies
Distemper/Lepto
Bordatella
Heartworm Tested
HW Preventative
Flea & Tick
Full Bloodwork
Cardiology Workup
Urinalysis
Tonemetry
Anal Glands
Micro Chip


FINN
FINN is a fresh arrival at WFTRM Chicago. He is 5 years old, weighs 22 pounds and is a fabulous Wire Fox boy. He is quiet and reserved and gets very attached easily. He loves his human and wants to be with them, on them or cuddling with them. Finn is the ultimate best friend who travels well in the car, very well mannered when in the store and around people and other dogs and walks like a dream on the leash. When we stopped at Starbucks, he got front and center on that console to be seen and get a pup cup. His exemplar behavior is duplicated in the house, well mannered and quiet and just a sweet boy. Finn eats very well, does the nose maneuver to try and cover it and will spill some on the floor. He has not been one to want to check out the big yard yet and especially not alone. He does his business close to the house and wants right back inside. Finn loves comfy donut beds with fur blankets, treats, toys and so easy to love and want to spoil. He is an owner surrender who has had him since a puppy and sadly has experienced some drastic life changes and she contacted WFTRM. He was loved and very well cared for and his owner wants him to get the perfect home. He is passive and fine around other dogs but is not one that wants to have one in his face or be challenged. He is not interested in playing – just being with his person and living a nice laid-back life. Finn is so adorable and has the ultimate teddy bear face. Everyone who sees him out and about gravitates to him and asks to pet him. He is such a smart boy who listens to direction, knows sit and just wants to please. We just adore this boy and there is a lucky home that will hit the lottery with this darling Wire Fox boy.
Neutered
Rabies Vaccination
Distemper/Lepto
Bordatella
Heartworm Tested
HW Preventative
Flea & Tick
Micro Chip