WIRE FOX TERRIER RESCUE MIDWEST
Gallery of Dogs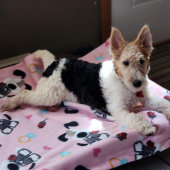 Love is the Flower you've got to let Grow. ~ John Lennon
MUFFIN IS
LOCATED IN
Send Application to:
knierim@msn.com
MUFFIN
Muffin is a little mouse of a Wire Fox who did not have the best care prior to her arrival at Rescue. Her owner was rehoming her due to no time to give her and she was never given any vaccinations as it was thought to be a waste of money. Her fluffy coat of tight curls was loaded with matts, her feet were like mops and her skin sore from being dirty and on a poor diet. Muffin is a sweet little girl who is overcoming her past and eager for her fabulous future. She loves people and being with them, hopping on laps and getting attention. She also loves toys, especially latex ones and balls and playing fetch is her favorite. Muffin loves to go in the car and knows the phrase – Go Bye Bye - then Zoom she is all geared up to go. She is not the best on a leash and is determined to be the one to tell you which direction to go or not go. She is a smart little girl who knows sit, dance and comes and puts her two front paws on your shoulder for a kiss kiss with that cute as a button black nose of hers. She can be a bit wary when she first meets you or grabbing her from behind. Muffin does warm up quickly as she just wishes to get affection, played with and be coddled. She sleeps through the night in her fluffy donut bed and blanket and in the morning will give you a soft low howl to let you know she wants to go outside. Muffin is house trained and very well mannered and laid back with all other dogs as well. She has made some friends here in Rescue but whoever has her squeak ball and tosses it is her favorite. Muffin is 4 years old and weighs about 18 pounds. Her spa day arrived and we were all excited to see what would be revealed. As anticipated, the most darling and precious little Wire Fox Terrier Girl!
Spayed
4dx Heartworm Tested
On Heartworm Preventative
On Flea & Tick
Rabies Vaccination
Distemper Vaccination
Bordatella Vaccination
Fecal Check
Canine Influenza Vacc.
Full Blood Panel
Full Dental Cleaning
Cytopoint Shot
Groomed
Micro Chipped
TIFF
Another sweet, beautiful little girl arrived on Saturday here in Iowa. This is Tiff and she is precious but also very needy. Tiff belonged to an elderly couple who have both passed away and the family couldn't keep her, so she came to live with me. I am delighted to have her, she is adorable. Tiff is needy she has to sleep with me, follows me everywhere like a little shadow. She whines and cries when she can't find me or thinks I have left the house. She is feeling insecure but her owners never left her alone. One stayed home or she went along, so Tiff is adjusting to major life change. She loves the other dogs Tiff is a passive girl unlike most Foxy females. She loves to play and is very social with people makes herself right at home. She loves to snuggle on a lap, walks are pure pleasure but she pulls on the leash like a tiny sled dog. She enjoys car rides and is always ready to go. She is house trained and used to a doggie door. Tiff is so cute she makes me smile. She loves it when I talk to her, listens intently and tilts that adorable head side to side. She loves toys too and playing ball is her favorite game. She has an odd habit of kind of hanging over the arm of chairs or she likes to climb up high and lay on the back of the chair or my shoulders. She is an awesome little companion. I am working to help her feel safe alone sometimes. It is a work in progress and lucky for me and Tiff I am home most of the time. She has had wonderful care, lots of love. Tiff was born 4-4-12 she will be perfect for a retired couple who can spend all day playing and pampering this sweet baby. She needs someone home or someone who can take her along to be happy. Promise you will love her she is a charmer.
TIFF IS
LOCATED IN
Spayed
4dx Heartworm Tested
On Heartworm Preventative
Rabies Vaccination
Distemper Vaccination
Bordatella Vaccination
Fecal Check
Groomed
Micro Chipped
Send Application to:
ccswires@netins.net