WIRE FOX TERRIER RESCUE MIDWEST
Gallery of Dogs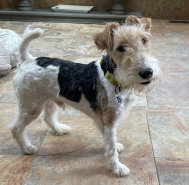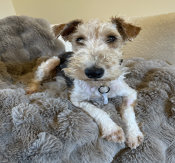 JAYCIE
Jaycie joined WFTRM in Iowa after she, along with two male Wires, were owner surrendered to a shelter. I took them to visit my vet and we discovered Miss Jaycie was due to whelp puppies. I am sure Zane is the sire he was intact when he arrived here. Dr. examined Jaycie Full blood panel, 4 DX heartworm test, fecal check and an all-important Radiographs to check on the puppies. There were 2 of them due any day. On Sat. June 15th very early in the morning, Jaycie whelped 2 babies. A little girl and a little boy. Sadly the little male was stillborn. The little girl seems to be doing fine. Jaycie came due to whelp, we had no history. I am certain she wasnít in condition or prepared to be bred before she whelped. She is healthy but showed anemia and hookworms however we didnít have time to get her into condition to whelp with prenatal care. The little male was a beautiful little ginger guy, it's so heartbreaking to lose a baby. Jaycie is a spunky, happy, alert little Diva. Jaycie is just 4 years old. She isn't fond of other dogs in her home but Ok when she meets them outside. Perhaps this will change once her baby is grown and Jaycie has time to adjust. She is a tiny little Ginger girl. Adorable lively and packed full of fun, mischief and charm. Jaycie loves treats and toys. She has the cutest head tilt when she is curious. She is leash trained, house trained and loves car rides. She will be with me here for at least 8 weeks to raise her puppy then she will be spayed and have a much needed dental. It will then be Jaycie's turn to shine and begin a search for a loving forever home. Watch for Jaycie and Baby updates. Help us celebrate the love and arrival of this new little girl in spite of the sadness I feel over the loss of the little boy.


TRINKA
IS LOCATED IN IOWA
Send Application to
ccswires@netins.net
TRINKA
Trinka is now 6 weeks old. She is the
cutest little puppy. Trinka is a singleton,
only one in the litter. I think this
contributed to her great love and
interest in people. Trinka thinks
she is a person, because she has
had so much human attention.. She and Jaycie, her mom, have enjoyed life in a little room all to themselves. Jaycie doesn't like other dogs but when she is outside playing, hunting and patrolling Trinka and I play. She has met a few of the more gentle Wires here in foster. Gunther especially likes her. I suspect he is her uncle, Zane is her Dad. Gunther has spent time playing with puppies. He loves her. Trinka is quite bold and sure of herself around them. She loves it when I sit on the floor with her. She hops over jumps in my lap or climbs up on my shoulder. Trinka loves to chew on my nose and give puppy kisses. Puppy Breath, soft thick cuddly fur, tiny pink paws and a chubby tummy just begs for tummy rubs. She has discovered her puppy bark too, sometimes it seems to surprise her. She hops like a bunny amazing how fast she can run. Trinka loves to go outside she is so curious but also likes to eat everything so only outside when I can watch her. Reminds me of days with toddler children. Puppies are adorable but also take lots of time. Trinka is going to be an amazing companion for some lucky family. I am taking applications for her even though she won't be leaving for at least 2 more weeks. I am looking for someone with Wire Fox experience who is home to house train, socialize and sit on the floor to play. I don't want her to be lonely. She has had one vet check, tail docked, dew claws removed and will go to the Dr. this week for her first vaccination, fecal check and possible worming. Trinka weighs 4.8 pounds and is a busy little girl She is eating her Fromm's puppy food 3 times a day. I also feed her Esbilac weaning formula. She is growing happy and a beautiful Baby.