WIRE FOX TERRIER RESCUE MIDWEST
Gallery of Dogs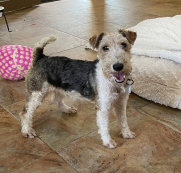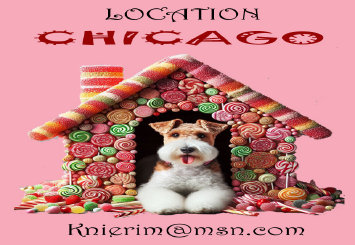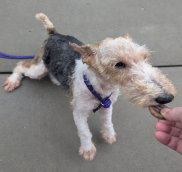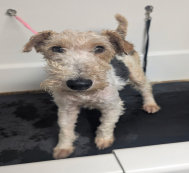 COCO
Meet a sweet angel named Coco. The face of Neglect and Despair is slowly turning into Hope, Love, guarded Trust and happiness. Coco was surrendered to another rescue in TN, Good Dog Rescue ran by an awesome lady named Lisa. She in turn contacted WFTRM asking if we could help Coco. I happened to answer the plea for help with a Resounding YES. Coco was quickly sent to a vet for emergency visit to evaluate her condition for travel. Our awesome helper in Oklahoma, Katherine drove to Tennessee picked her up and drove her straight to Iowa. She was evaluated by my vets. Coco was found to be suffering from starvation/ severely underweight, bacterial skin infection, Alopecia throughout entire body, odorous, inflamed skin warm to touch severe flakes yet oily to the touch, Ears are severely stenotic pus discharge and odorous, urinalysis showed elevated bacteria UTI, Moderate conjunctivitis both eyes, Grade 1-2 Left sided systolic heart murmur likely endocarditis from bacterial infection and Teeth. Coco has severe dental gingivitis and tartar. Bloodwork changes elevated neutrophils/white blood cells and anemia of chronic disease/ suspect changes due to long term health issues/skin infections and neglect. Coco has been having daily medicated baths with medicated shampoos, antibiotics, high calorie diet, ear cleaning 2X a day treated with medicated drops, eye drops. She is due for recheck tomorrow. She has been eating and enjoying her food. Loves her baths and even stands still for ear cleaning. Coco knows she is safe now. I am convinced she knows I am working to help her.
COCO IS
LOCATED IN
IOWA
Send Application to
ccswires@netins.net
Spayed
Heartworm Tested
On HW Preventative
Rabies Vaccination
Distemper Vaccination
Bordatella Vaccination
Full Blood Panel
Dental Cleaning
Ear Cleaning & Meds
Micro Chipped
She guards her big crate with all the fluffy blankets and does the sweetest play bow for treats whenever she sees me. She will not let any other dog in her Big crate. Itís hers and she loves it. Coco has the warmest, large brown eyes that can melt any heart. I have no idea how her first family could leave her outside and ignore her for so long. Coco would not have survived much longer. She is so loving now it brings tears to my eyes. She is constantly giving me her paw, someone taught her to shake hands. She also sits up and begs for treats. Coco is coming around but it will be a while before she is ready to begin her journey to a forever home. She has gained weight, her ears are Much better her eyes are bright now. She is beginning to play, trust and even smile. Coco was born 10-14-10. She did celebrate her 8th birthday with us today. She had a special dinner and an afternoon filled with lots of snuggles, yummy treats and love after her bath. She loves her nice warm sweaters. We went shopping at Petco for some that would fit her tiny thin body. She gets cold since her fur in mostly gone. It will grow back with good care. Everything takes time and she is very patient. Coco is going to be an awesome companion and best friend to some lucky family.
Coco Update. Our Sad girl who came with horrible skin issues, ear infection, and almost starved to death has improved. She has shining, happy,spirited eyes, her skin has improved but still has a way to go. She went from 16 pounds up to 19.3 and Loves to eat. She went to visit the vet last week. Everyone was very happy with her progress including me. Her ears were treated with Claro now because they are open and the meds can be applied deep in the ear canals, so no more daily cleaning. Her baths are down to 3 a week instead of daily. Her hip and rib bones are no longer protruding, still needs a few pounds but wow what a difference. We have her on Cephalexin now and a new spray for her irritated skin. She was running and playing in the leaves yesterday and I think that was a mistake as the dust made her skin red again. She was certainly having a good time. Coco is a really sweet, loving happy, peppy girl. She is so excited to be alive and feels wonderful. She smiles now and does the cutest play bows including a happy bark to get me to chase her. She is learning how to play with toys. House trained to perfection and still loves lots of snuggly blankets. She owns her bed no one else is allowed near it. She is so charming and comical. Loves car rides too. I think in the short time she has been here she is doing really well.
SIMON
SIMON IS
LOCATED IN
IOWA
Send Application to
ccswires@netins.net
Neutered
Heartworm Tested
On HW Preventative
Rabies Vaccination
Distemper Vaccination
Bordatella Vaccination
Micro Chipped
Meet Simon a wonderful
handsome guy who
found his way to Rescue
in Iowa. Simon has been
very well cared for in his
former home however he
has always lived in a kennel environment. Simon was born Jan. 1, 2010 so we thought it is high time this sweet fellow found a loving home all of his own. He is enjoying life here in his foster home. He loves running in and out in our big fenced yard. He gets along well with most other dogs, so he feels at home here. Simon is also learning basic house manners like House training with the help of a Belly Band and following the others. He is doing really well. Simon loves walks and does well on a leash. He likes car rides and has even rode on an airplane. Simon has had many awesome adventures on his journey to rescue. He is simply delighted with squeaky toys. Its comical and heartwarming to see his eyes light up with excitement when I instigate play. He is also quite a fan of water. I discovered this by accident when we had lots of Rain and mud puddles yep he likes to roll and play in puddles. He is a fun dog who is mellow and on the independent side, NO separation Anxiety at all in fact Simon needs to learn how great it is to bond with his human. He loves to have attention ear and neck rubs. He is going to be an awesome companion with a super kind temperament. He loves to be loved the more he is exposed to a one on one relationship. Simons new life will be an ongoing adventure for him and his companion person. He is very social with everyone he has met so far. Simon has been neutered, blood panel, vaccinations, much needed dental, HW and fecal tested and Microchipped. He is in excellent health with no concerns. He has a lovely coat and enjoyed grooming. Simon needs a home with someone interested in showing him patience, love, training and socialization. He is excited and willing to learn. He requires a secure fenced yard to run and play in and a human who will spend time playing fetch. Simon would love a lap to snuggle on in the evenings and take long walks to explore. He has a real fascination with squirrels who like to tease him from the trees. He is certain if he jumps he can get them. Simon needs an owner who is home most of the time. Simon says he is ready, excited and willing to learn all you are willing to teach.