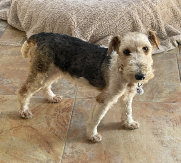 LUCA
Hello everyone my name is Luca. I live in Iowa and I'm beginning my search for a Forever Home. I live with some other Wire Fox Terriers in my foster home. I love everyone here but mom says I will love a home of my very own. I do have a few things to learn and get used to, since I've never actually lived in a home before. I love to watch television. We have lots of awesome toys that make strange, interesting noises. There is a big mirror that has a very handsome pup inside. I try to bark, jump, dance to get him to run out and play with me. I am learning its best to potty outside like a big boy. I hate those boy diapers. Leashes scared me so bad but now I see if I just walk along that leash takes me to some really fun places. I have learned the same thing happens with car rides. I am becoming a very brave boy. I still like to hide in my very own crate if things get too weird for me. Mom says its my house and I can go in there for quiet time if I want to. I love to tease mom and get her to play. I jump at her and make short little arf arf sounds until she joins my silly catch me game. I am really trying to be brave and trust mom so I can come when called. I am just a little scared because mostly nothing good happened when a person wanted me to come, but this mom pets me and says good boy with a yummy treat. I love when I hear Good Boy I love my foster mom she always seems to make good things happen even if I'm afraid to try. I'm getting the hang of how awesome life can be and mom says its going to get better and better. I was born 5 1 2016, wow almost time for my happiest Birthday ever. My former birthday's werenít the best, mom promises this one will be a pawty ?I have been to see Dr. Mallen and had several painful teeth extracted. I'm feeling better now and I can eat without hurts. My bloodwork came back Perfect. I am neutered ( that part wasnít fun at all) but mom says I will be fine. I had lots of stuff done and I am a picture of health. Mom says my new home should have another happy friendly dog, a secure fenced yard, a new person who isnít gone all day because I need lots of love, time, patience, walks, treats, Good Boys and car rides. Trips to meet other people, dogs, and have exciting new adventures so I can learn not to be timid. I am a tiny Foxy only 17 pounds but I might gain some weight. I am a little skinny. My life is Good but I do need a forever home please think of us if you think you're the perfect fit. Mom says no hurry we are patient humm I think mom loves me too.
WIRE FOX TERRIER RESCUE MIDWEST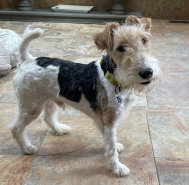 GALLERY OF DOGS
CHLOE
Little Miss CHLOE
came to town - the
newest arrival at
WFTRM Chicago.
She is 10 months old and has loads of energy and puppy playfulness. She is about 13 pounds and just so happy to spend time with you and hang out. Has to be on your lap and even climb up to your shoulders. Chloe really wants a BFF she can do everything with and go along. A fabulous garden helper she loves being in the yard while you garden and tend to the landscape. An alert little girl too and she knew the neighbor was over the fence doing some raking so we went to say hello. She has been very obedient, quiet in the house and well behaved. Chloe was more than what her mom could handle and honestly Wire Fox puppies are challenging for any age human. Her mom was elderly and used a walker but did take amazing care of her. I think she also had some training as she knows many commands but still a young Wire who can want her way and let you know. She is very treat motivated. Chloe is super fast in the yard, running laps and snorting and puppy growling. So much energy she needs to shake out of her system. She loves running up and down the stairs in the house too. A typical busy, active and eager to learn Wire Fox puppy. Chloe would be best in a home with a fenced yard, someone with time to train her on potty and walking on a leash, was home quite often and wants a little girl to love and be her everything. She is confident and dominant and is friendly with some and not with other dogs. She gets a little wild spurt in her and can get a bit mouthy and defiant so a home with no kids would be best for now. Chloe is a darling and charismatic and who just needs some attention and leadership in her life. Be prepared for a fixture on your lap and a shadow behind your legs.
Spayed
Rabies Vaccination
Distemper/Lepto
Bordatella
Canine Influenza Vacc.
On Flea & Tick
Heartworm Tested
On HW Preventative
Fecal Check
Ears Cleaned
Micro Chip

Neutered
Rabies Vaccination
Distemper/Lepto
Bordatella
Heartworm Tested
On HW Preventative
Fecal Check
Bloodwork Panel
Micro Chip
Grooming

Send Application to
knierim@msn.com
Send Application to
ccswires@netins.net