WIRE FOX TERRIER RESCUE MIDWEST
Gallery of Dogs
SWEET BEE
SWEET BEE is the perfect name
for a very darling and brave little
Wire Fox Terrier girl. She has a
very severe skin condition and
allergies which she has been
suffering with for many years.
She has had ongoing care with numerous medications, topicals, treatments and tests. After her owner passed away, a friend tried to take care of her and was overwhelmed with the skin issues and she was brought to Brevard Humane Society in November 2018. Here she was in a foster home and received great vet care, procedures and more testing. Sweet Bee needs a veterinary dermatologist specialist and specialized care so they reached out to Rescue for her. Fabulous group to work with and they also helped transport her to the other side of Florida. Sweet Bee has joined Wire Fox Terrier Rescue Midwest in Florida and will be fostering with JoAnne Bates and her fur kids. She is such a happy little girl and just adores toys and balls, squeaking them, walking around with them in her mouth and does not even put it down to bark at something. Sweet Bee has open sores that will ooze and will wear a garment on and off to protect her from licking. She is painfully thin with no muscle mass. She is in heaven getting her neck and chest rubbed and closes her eyes it feels so good. She just is soaking up all attention and loving and it probably has been awhile since someone has wanted to pet and touch her. She cannot help her condition but WFTRM and Jo-Anne will do our best to get to the bottom of her issues and make her comfortable. Her condition has to be so painful, sore and miserable and to endure this and still have this joyful, bouncy and friendly personality is heartwarming.
SWEET BEE
IS LOCATED IN FLORIDA
Send Application to
knierim@msn.com
Send Application to
ccswires@netins.net
CHARLIE IS LOCATED IN NORTH CAROLINA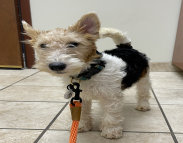 CHARLIE
Adorable, feisty little Charlie
girl has found her way into
rescue. Charlie was found
in a pet store in North
Carolina and a wonderful
lady could not stand to see
her there at 3 months old.
They adored Charlie, but she was a huge distraction from her brother who is a service dog in training. Charlie is 6 months old and a typical little female Wire, full of sass and a real zest for adventure and life. She has a beautiful split face is on the petite side. She and her foster brother Asher have a blast chasing each other and trying to determine just who has the best butt bump. While Charlie gets along fine with other dogs she will probably need a home of her own. She is a typical Wire girl who truly believes she is large and in charge!! Charlie is super smart and already is catching on to potty training. She knows how to sit nicely for treats and also knows "touch" which is often used in service dog training. She like most Wires seems to be part Goat as she loves to climb on tables, backs of chairs, basically anything with a good view. Charlie loves to be picked up and carried like a baby while she proceeds to give as many kisses as she can. This little gal loves treats and will be a very quick learner as long as treats are involved. We are working on simple commands, down, stay and leash training. Charlie will require a secure fenced yard, only dog home with an experienced owner who doesn't work all day. Charlie is not used to being left home alone is crate trained and is fine with a couple of hours. Charlie needs lots of attention, time, training we would love to see her in obedience classes she would excel as long as there are treats. Charlie is spayed, vaccinations are complete, fecal checked, on heartworm prevention and Microchipped. Charlie is a healthy happy girl ready for a forever home. Please consider making this special little gal a part of your family for years of love and laughter as she really is quite comical. Charlie is being fostered in Charlotte, NC.
Spayed
Rabies Vaccination
Distemper Vaccination
Bordatella Vaccination
Canine Influenza Vacc.
Heartworm Tested
On HW Preventative
On Flea & Tick
Blood Work
Urinalysis
Fecal Checked
Wormed
Drug Sensitivity Testing
Micro Chipped
Sweet Bee has been to the vet for an exam and consultation and received the referral needed to make an appointment with a specialist. She has had a full blood panel which is all over the charts, her thyroid is low and she is slightly anemic. She is going on thyroid medication and will be getting medicated baths. Her appointment with the veterinary dermatologist in Tampa is on April 26th. It is the soonest we could get her in. While she was in foster care at the Shelter, she had drug sensitivity testing done which returned with Sweet Bee being either Resistant or Sensitive to just about every antibiotic from Amoxicillin to Trimethoprim – all at varying levels. This will be an uphill challenge but one that we hope will be eventually under control.

Sweet Bee just wants to be part of a family and be loved. She so enjoys joining the group and is friendly with everyone and that includes the cat. Sweet Bee is 8 years old and was born November 19, 2010.