DAWN
Meet Dawn one of the 10 Treasured Terriers. She has been a WFTRMTreasure for a short time. Dawn arrived in Iowa and she knows her life ismuch better. She doesn't understand why but she knows. I chose her name because it means start of a new day. Dawn has been given a chance at a new life, starting now. Her adoptive family will fulfill her destiny and giveher that new life as a beloved pet, in a home not a cage. Look at her eyes filled with a delighted glimmer of hope and love Her smile and frisky jumpsenticing me to play tell me she feels happy and excited. Her past life gave her only misery, day in and day out. It's amazing and wonderful to see this change. First groom and bath is the beginning. Dawn has been to visit the vets at Avenue of the Saints. The staff of caring techs all showed her love and patience. Dawn is walking on a lead now. She is crate trained but only in one at night. She is doing a great job with house training. She comes
running to me when she sees me. I always have a supply of small treats toreward. Dawn no longer cowers when I approach. She comes through the door and happily bounces in the dog room to grab a squeak toy. She does a cutehappy paw pump and adorable head tilt. Dawn had a great checkup, received her vaccinations, blood panel was perfect except for slight anemia, has been wormed and she is spayed. She has beautiful white teeth and a good diet and clean environment will help forward.
Dawn is ready to begin her new life. She needs a calm, kind, patient person. Someone who understands how to treat a girl like Dawn. Give her time, love, training. I promise it's the most rewarding, fun amazing job you will ever
have. Earning the trust, respect and love from a dog who yearns to be loved but is so cautious about the first step is an unbelievable experience.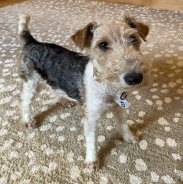 GALLERY OF DOGS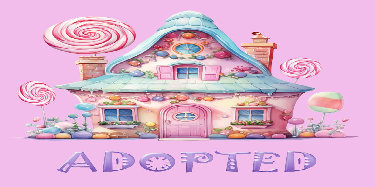 DEMI is an absolute doll - she is smart, fun, full of life and has so much love and kisses to give. Just like her siblings, she is petite, pretty and is 5 months old. She has a sweet, laid back disposition which is lovely. This little girl came with her makeup bag and has dark black eyeliner around her entire eyes. Beautiful brown face, wiry coat and nice black markings. Demi is the one to be first out of the gate, first to make new friends and to run and play. She is the chaser in the game of chase. She was very shy though at the vet when she went for her vaccinations. She currently weighs 10.8 pounds. Demi is the girl who discovers all those smells first that terriers zone in on. She found Mr. Possie under the deck and was barking at him to come on out. She is a muse for the camera and loves being talked to. Just a lovely, quiet tiny girl who loves being picked up and having her neck kissed. Demi is waiting for her Forever Home who will love on her, keep her safe and with plenty of time to spend with her.

TREASURED PUPPIES
As part of the Ten Treasured Terriers Puppy Mill Rescue were 5 beautiful sweet natured puppies who are 5 months old. They are all so calm and loving and excited and happy to be out of the horrid mill where they were born and confined. All are on the petite side and simply adorable.

DARBY
DUFFIE
DAPHNE
DARCY
DEMI