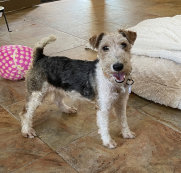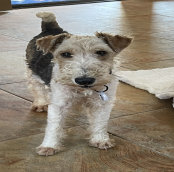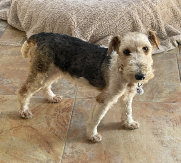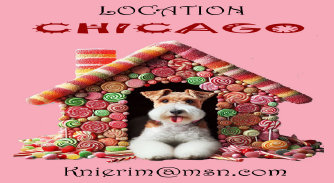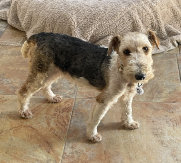 WIRE FOX TERRIER RESCUE MIDWEST
Gallery of Dogs
CALVIN
Could Calvin be any
cuter? I think not and
he also is the sweetest
and laid back Wire Fox
as well. He is also a
courageous boy to have endured what had to be a neglected and gloomy life. He is about 5 years old, weighs 20 pounds and has a gorgeous tri-color coat that is equally luscious to rub and hug on. Calvin is gentle, quiet and so grateful for every ounce of attention you give him.

Calvin arrived at WFTRM Chicago in a way only the angels above could have arranged to have led him here. He was picked up by a County Animal Control in Whiteville, North Carolina. He had the usual shelter protocol however his heartworm test returned positive. He was then released to a local all breed rescue group in February who did a biopsy on an anal tumor which report stated perianal gland carcinoma. Calvin was not neutered and the testosterone causes these typically slow growth tumors to spread. He was staying in a foster home for these months when the Rescue group put feelers out for a Hospice foster home. JoAnne Bates in Florida stepped up instantly to take Calvin in her home. It was after he made it safely to her that he was examined by her vet, his records reviewed by all and the decision made that Calvin deserves medical intervention and a chance to live a life without pain and to have promise.
Neuter Surgery
Heartworm Tested
Future HW Treatment
Rabies Vaccination
Distemper Vaccination
Bordatella Vaccination
Fecal Check
Wormed
Full Bloodwork Panel
Urinalysis
X-rays
Ultrasounds
Anal Gland Tumor Surgery
Full Dental Cleaning
Canine Influenza Vacc.
I.V. Fluids
Micro Chipped
Send Application to:
knierim@msn.com
When Calvin arrived at WFTRM Chicago on April 29, he was immediately taken to Midwest Animal Hospital for examination and preparation for surgery with a full blood work panel and urinalysis. His blood work returned with high white blood count which indicates infection. And most distressing . . . the 4DX test came back positive for Heartworm. All of these painful and life threatening issues could have and should have been prevented had he received proper care during his life. It is important to do his anal gland surgery first, send out for biopsy and see about the margins and go from there on the next steps.
CALVIN IS
LOCATED IN
Calvin's surgery day arrived on Thursday, May 4th. He first received chest x-rays to view the heart and determine the Stage of Heartworm which was estimated at a Stage 2. He then had ultrasounds taken of his organs and the anal area to determine the best course for surgery. The surgeon was able to remove about 2/3 of the tumor area around his anal glands and remove the left anal gland. This was sent out for biopsy as well as the ultrasounds sent out for radiologist consultation. Both the reports have returned and offer promising news and renewed hope. While the radiologist report from the ultrasound has concern for the enlarged lymph nodes in the abdomen, the biopsy on the mass surgically removed showed a mix of inflammation, necrosis and hemorrhage with clear margins.
Calvin had been recovering from the surgery with one day going well and the next would be vomiting, bloody diarrhea and not eating or drinking. He was brought back on May 9th and given a Cerenia injection and Famotadine added to his daily regimen. On May 11th Calvin was brought to MedVet in Chicago and was admitted through the ER. He received more testing to determine the inflammation of the lymph nodes, the loss of protein through either his gut or enlarged prostate, and the Inflammatory bowel and stomach and colitis. He was hospitalized and on I.V. Fluids and Medications. Fine Needle Aspirates of his enlarged lymph nodes was performed with the report returned with nothing to be concerned about. Calvin's intestines and bowels are very angry and he will be fed a careful diet of turkey or chicken. He was also administered a 6 day worming of Panacur syringes.
Calvin has received his first Heartworm injection on May 18th. He also received laser treatment on the sight to promote healing, lower inflammation and and pain. The heartworm is a contributing factor to all the inflammation and infection that has run rampid through his body as well as the peri-anal mass that was removed. Calvin has been such a trooper through all the hospitalizations and needles and testing. Calvin received the second treatment of two injections on June 16 & 17. the second injection around June 17. His appetite is good and he is recovering very well. He continues to show funny and heartwarming traits of his personality, has lots more pep and is a very happy fellow.
RUGBY
Meet our Rugby, an adorable, playful, sweet natured pup who arrived in Iowa. He is looking for a Forever Home. He has all kinds of energy, stamina and Loves to chase Balls. He is an adorable action packed player. Rugby will require a nice sized fenced yard with an owner who likes to play ball. He is just 6 months old, a typical fun loving Foxy who was misunderstood in his first home. He loves it here in Iowa and has become one of the Gang. He loves to tease the other dogs then run away fast as he can go. He is a most curious little guy fascinated with the whirlpool tub and all those mirrors. Rugby can't figure out why that pup won't come out to play. He has an awesome temperament no nasty bitey face from this guy. He enjoys walks, runs and car rides. Plays in the kiddie pool also likes to garden and transplant my flowers. A new owner must be prepared for a pup who might have an accident, likes to chew up your Flip Flops, scatter rugs, and just this morning he greeted my with the remnants of a roll of Toilet Paper. Patience and knowledge of Wire Fox will also be a Virtue his new owner will need. Rugby is well crate trained, loves to snuggle, fine with other dogs. He is used to having a person home with him all day and loves to follow me around. He would not be a happy Player home alone all day in a crate. He howls but will sleep in a crate happily over night with his Blankie. He is like a baby has a wonderful harsh wire Coat and beautiful markings in the tri colors. Rugby has been neutered, micro chipped, fecal checked, all vaccinations are current and a blood panel was done. Rugby is in perfect health and ready to begin his Journey to a Forever home. A perfect made just for him home where he can blossom into a Handsome, well mannered, adorable, Proud Wire Fox Terrier adult.
RUGBY IS
LOCATED IN
Send Application to:
ccswires@netins.net
Neuter Surgery
Heartworm Tested
On Heartworm Preventative
Rabies Vaccination
Distemper Vaccination
Bordatella Vaccination
Fecal Check
Micro Chipped