WIRE FOX TERRIER RESCUE MIDWEST
Gallery of Dogs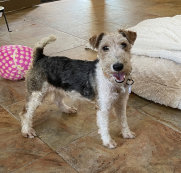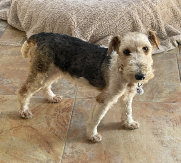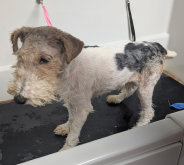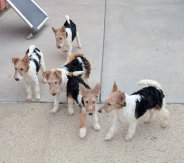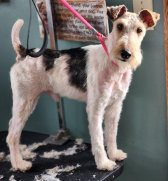 Let Love Bloom
KAYLEE
KAYLEE IS
LOCATED IN
Send Application to
knierim@msn.com
Spayed
Heartworm Tested
on HW Preventative
On Flea & Tick
Rabies Vaccination
Distemper Vaccination
Bordatella Vaccination
Canine Influenza Vacc.
Fecal Check
Full Dental Cleaning
Blood Work Panel
T4 Test
Urinalysis
Ear Cleaning/Flush
Worming
Micro Chipped
KAYLEE arrived at WFTRM in Chicago on Friday night. She is a senior girl who was horribly neglected, filthy, matted and then abandoned on the streets and left to fate. There was no collar or micro chip or any identification. Kaylee was begging for someone to be kind to her. She found her way to Animal Control and the report stated:
"Caller left authorization for the responding Animal Officer to remove the dog. The dog showed up on her front door step and would not leave."
Where is the compassion in this world today? Kaylee deserved empathy and care so she was sprung from the Animal Control in Florida, taken to the vet and arrangements made for her move up to Chicago. Her chances in Animal Control were slim. The Shelter listed her at 10 but after getting to know her more she is more like 12 years old. She is a teeny tiny 16 pounds. She is believed to be a Welsh Terrier but again - getting to know her I can see little Lakeland Terrier traits too. Whatever Kaylee is - she is divine and adorable and so worthy of being rescued.
Her matts were cut off at Animal Control and she was given Revolution. It was apparent that Kaylee was flea infested for a very long time. No hair on the inner legs, darkened skin on the lower torso as well as flea dermatitis of sores and scabs. She is extremely itchy all over - the treatment is to let the Revolution take care of the fleas and heal. It is very miserable to be bitten and itch all over. The blackened nose from being caged – rubbing on the bars to escape. Kaylee went to Midwest Animal Hospital on Saturday and had a full blood panel drawn, 4dx Heartworm Test, T4 Thyroid test and was given Drontal Plus for tapeworms. We went back again on Sunday for a urinalysis, ear cytology and medications.
Blood work returned with various levels elevated due to infection and dehydration and expected in her condition. T4 was normal. Urinalysis was good as well – a little diluted. She has some sclerosis in her left eye which is normal with aging and can see fine. Kaylee is on antibiotics for the skin and dental and Apoquel for the allergies. I will gently cut more of the matts and snarls and give her medicated baths which should make her skin feel so much better. She will transform into a beautiful little girl again – just takes a little love, commitment, care and healing.
Kaylee has a funny, friendly and loving personality. She is so calm, good natured, so very well behaved. She loves to follow me around and gets excited when she sees the leash. She is a great car traveler and looks so cute looking out the window. Kaylee adores her big donut bed with a purple fur blanket bought just for her. She has some unicorn toys to snuggle with and has let out a big sigh as she feels safe, warm and loved. She is eating so well as she has been hungry for a long time it seems. Each day is a little brighter and she feels so much better. This morning she wagged her tail when she woke up and saw me and the bopped outside to do her business. She went all the way in the back yard even though it was snowing – something she probably has never seen before. While fixing her breakfast, I heard a tap tap on the slider glass and there she was - sitting there staring in saying open the door. Kaylee is friendly with everyone she meets and wants to go up and say hello. She is quiet and so easy to love and take care of. She will make someone the perfect companion and fill their heart with happiness.
Kaylee is feeling so good that her bounce returned in her prance. While out in the yard picking up toys strewn about by the resident Wires, she followed me around sniffing and enjoying all the smells. I came to a foxie toy and Kaylee looked at me as if to say - throw it - I want it. This little sprite ran right over and started playing. So darn cute! Watch her little video below.