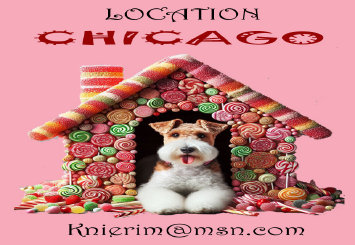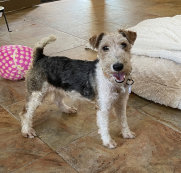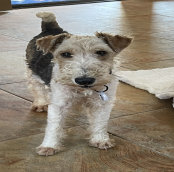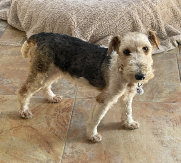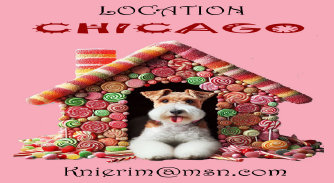 WIRE FOX TERRIER RESCUE MIDWEST
Gallery of Dogs
SCOTCH
Scotch is a gorgeous red
Lakeland boy with an air
of sophistication and a
playful personality. He
loves toys and believes
that they are all his. He will pony prance around with one in his mouth just so delighted and happy. Scotch is enjoying the fresh air and watching the gardens and being free. He is small in stature with nice conformation and a beautiful coat. Scotch was born August 16, 2013 to a Foxcreek's Wildwood Red Night Flamin and Razzle Dazzle'n Lady. He was rescued from a puppy mill auction in Missouri and was adopted to an incredible home who also had a Wire Fox Terrier adopted from WFTRM. Fred and Jane have worked diligently with Scotch and he has come such a long way. He has learned to be a beloved pet – no longer skittish or cowering at sounds. Scotch loves his walks and getting lots of attention. He enjoys cuddling on the couch, massages and being everything to his humans. To see his tail wag or nestle in his blankets for a nap will just warm your heart. Unfortunately now that Scotch has had a taste of the good life and a fabulous home – he decided he would like that all to himself. He has started lashing out at his brother – jealous of even him beating him through the door after a walk. He wants all the human attention to be his as well. His jealousy is escalating. Scotch is loved so much that it is a painful decision and understanding that for the safety of the two dogs and his happiness as well as that of the Wire Fox boy that he find a home where he can rule the kingdom. Scotch is a healthy 4 year old Lakeland Terrier boy who is a treasure.
Neutered
Heartworm Tested
on HW Preventative
Rabies Vaccination
Distemper Vaccination
Bordatella Vaccination
Fecal Check
Wormed
Full Bloodwork Panel
Urinalysis
Full Dental Cleaning
Canine Influenza Vaccinations
I.V. Fluids
Micro Chipped
Send Application to:
knierim@msn.com
SCOTCH IS
LOCATED IN
MURPHY
Murphy is a perfect blend of playful, yet calm with just a touch of spirited Foxy mischief. He is 4-5 years young and was rescued from a shelter. Murphy is an awesome loving companion, super friendly, affectionate and often comes for a good neck rub. Murphy's favorite toys are balls and fetch is his game. He will play as long as your arm lasts, then ask for more. He has a Giggle Ball that he rolls around and it keeps him entertained for a long time. Murphy seems to have endless energy racing around the yard with his two female companions. Murphy enjoys the company of other dogs too. This perfect fellow loves to go for walks, rides in the car are really fun with him. He lies in the seat and doesn't move, simply enjoys the ride and your company. Water sports are a favorite too especially on those hot sunny days. He enjoys strolling around in the kiddie pool and goes into attach mode with the garden hose. You might want to put him in the house when you water flowers. Murphy is well house trained but isn't fond of a crate. He prefers to sleep on the sofa and will stay there all night. Murphy is around 4-5 years old, weighs 21 pounds. He has had his vet work finished up including a trip to a Specialty vet clinic for a cardiac work up when a heart murmur was discovered. The Cardiologist did an echo cardiogram to see why he had the murmur. Murphy has disease in both valves in his heart and enlargement of both atria. She said he would be considered borderline for needing medication but recent studies showed that dogs with similar stage of disease had better outcomes if they were started on medication early. Dr. started Murphy on Enalapril and Vetmedin. He'll need a blood test in a few weeks to make sure the meds aren't having any adverse effects that test will be done this week but he seems to be feeling great and is not showing any ill effects to the meds. She recommends another ultrasound in 6 months which should give some idea of what his prognosis is, this test cost will be covered by Rescue funds from Iowa. All things considered, she thinks he's doing well and Prognosis is good. Everyone loves Murphy and he loves people. He handsome loving boy deserves a Forever Home of his own. A home where he can feel safe, loved and bonded with someone who needs him as much as he needs them.
MURPHY IS
LOCATED IN
Send Application to:
ccswires@netins.net
Neutered
Heartworm Tested
On Heartworm Preventative
Rabies Vaccination
Distemper Vaccination
Bordatella Vaccination
Blood Work
Fecal Check
Cardiologist Workup
Micro Chipped
JAG
Jag is the newest arrival in Iowa. He is a handsome fellow and he knows it. Always amazes me how each dog who comes has a distinct personality. Jag is quite sure of himself, proud, dignified with just a touch of humor and mischief, when he wants to get playful. He enjoys the company of my girls in foster but he owns his territory with other males. Jag needs to be an only dog in his new home. Jag wants to be the Only male in his turf. He is very affectionate with people and would make a perfect companion for a gentleman who wants a steady loyal friend. Jag spent most of his life in a kennel, as a stud dog, but that ship has sailed now. He is neutered but has maintained that proud dignified manner. He absolutely loves squeaky toys and will do most anything to have one tossed his way. I am working to convince him it's more fun to give it back. He likes to play in my kiddie pool, and seems to enjoy a bath. He Loves back and neck rubs. He is a beautiful Foxy who is in perfect health., born 3-12-07 and is AKC registered. He is all finished up at the vet with full blood panel, dental, vaccinations, neutered, fecal check, and microchipped. Walks nice on a leash and really enjoys human interaction and wants to bond. Jag needs someone who is patient, loving but firm. He is learning basic commands and house training He is a quick study in both areas. Jag is well crate trained and keeps his house very clean. He is a loving guy who will sit by your side for hours, follow you around and smiles these days. He is a love and waiting to find that loving forever home with someone who needs him as much as he needs them.
JAG IS
LOCATED IN
Neutered
Heartworm Tested
On Heartworm Preventative
Rabies Vaccination
Distemper Vaccination
Bordatella Vaccination
Blood Work
Full Dental Cleaning
Fecal Check
Micro Chipped
Send Application to:
ccswires@netins.net