CHLOE
A little girl arrived at WFTRM Chicago who is so tiny and so adorable and just a sweetheart and her name is CHLOE. Her prancing and trotting around is delightful to watch. She just turned 12 years old and has been hand stripped most her life and has a gorgeous thick wiry coat of vibrant colors. She is a sturdy compact terrier who weighs 17 pounds. Chloe lost her dad who was the caretaker of the dogs leaving her elderly mom with a cane and uncle who lives with them in a wheelchair. They had to come to a heartbreaking decision to contact WFTRM to surrender their little girl. They purchased her from her breeder at the age of 9 and in that short 3 years loved and gave her great care. Chloe had developed some anxiety her first nine years as she was crated or locked away due to other intact dogs with the breeder. She would pace and pant for a bit but has adjusted to having free run, someone home and snuggling with a human. Chloe and I went to the vet and she had a full blood panel, urinalysis, a Lepto vaccination, Cytopoint injection, fecal which was negative and was put on antibiotics for a bladder infection. She loves people and being a busy body and was thrilled to greet everyone and all dogs at the animal hospital. Everyone gushed over her and asked to pet her and said she was the cutest little thing they ever saw. In fact, everywhere she goes people want to stop and say hello they are just smitten with her. Chloe loves to be picked up and held and so easy when they are small. She is also obsessed with kissing you, smothering your face, ears and body with so many licks and kisses. She will lay straddled across you and tucks up against you for a nap. Chloe does have cataracts forming but can see and does well going out to the yard for her business, can easily navigate down a flight of stairs and anywhere she wants. I think the hearing is affected with age as well. She also loves to go for car rides, walks and especially be with her family. Her signature is to Bark Bark when she wants to go outside or will do some funny talking when she is waiting for her breakfast.
WIRE FOX TERRIER RESCUE MIDWEST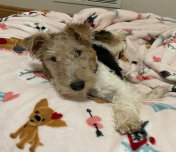 GALLERY OF DOGS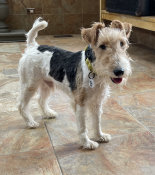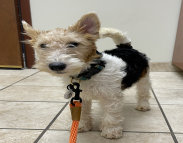 Send Application to
knierim@msn.com
Spayed
Rabies Vaccination
Distemper/Lepto
Bordatella
Heartworm Tested
On HW Preventative
On Flea & Tick
Fecal Check
Full Blood Panel
Urinalysis (x3)
X-rays
Cytopoint Injection
Micro Chip


CHLOE UPDATE:

After her first course of antibiotics was complete, she was still experiencing urinary issues and she went back to the vet for another urinalysis. There was just the same protein, no crystals so it was decided to put her on a second course of different antibiotics. After a few days it was clear this was not helping, and some blood was seen in her urine. Chloe went back to the vet for an x-ray of her bladder. Nothing was seen and consequently an ultrasound is now scheduled for January 4, 2022. They suspect possible bladder stones and if that is the case, she will have a cystotomy to remove the stones and will be in recovery. If not, we will continue on the next course to help this little girl who only wants to be loved. Chloe is now being fostered in Michigan with volunteers Leslie and Barb. They adore taking care of the senior Wires and this opened up the Chicago spot for another boy. Very grateful for all rescue angels and will keep everyone posted on Little Miss Chloe.