WIRE FOX TERRIER RESCUE MIDWEST
Gallery of Dogs
GUNTHER
Gunther came to WFTRM with
2 other Wire Fox all three were
surrendered to a shelter.
Gunther is the most mature of
the three , also the most calm,
sweet, comical and just plain adorable. I am partial to older dogs they have a calm demeanor and just accept life as it comes. Gunther is 10 and such a doll. He wasnít acting quite right when he arrived I noticed some odd symptoms so off we went to see Dr. After checkup and radiographs it was discovered Gunther had one large bladder stone. He had surgery and came through like a champ. He is feeling wonderful and enjoying life here especially his Bagel bed. Gunther is a lover, fine with other dogs but would probably love being an only dog with someone who wants a sweet happy playful companion to spend time with. He loves walks, enjoys car rides, Toys, Treats, belly rubs, lap and cuddle time. Gunther is a perfect little package. He is on the small side short and weighs 18 pounds. He has had full blood panel , dental, 4 DX heartworm test, fecal, vaccinations and Microchip. He is a healthy boy ready to find his Forever Home, no more shelter dumps for Gunther. He is such an awesome guy and will make a wonderful loving companion for the family who decides to give him a chance.

GUNTHER
IS LOCATED IN IOWA
Send Application to
ccswires@netins.net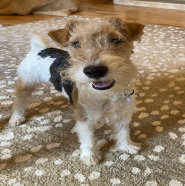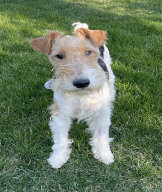 JAYCIE
Jaycie joined WFTRM in Iowa after she, along with two male Wires, were owner surrendered to a shelter. I took them to visit my vet and we discovered Miss Jaycie was due to whelp puppies. I am sure Zane is the sire he was intact when he arrived here. Dr. examined Jaycie Full blood panel, 4 DX heartworm test, fecal check and an all-important Radiographs to check on the puppies. There were 2 of them due any day. On Sat. June 15th very early in the morning, Jaycie whelped 2 babies. A little girl and a little boy. Sadly the little male was stillborn. The little girl seems to be doing fine. Jaycie came due to whelp, we had no history. I am certain she wasnít in condition or prepared to be bred before she whelped. She is healthy but showed anemia and hookworms however we didnít have time to get her into condition to whelp with prenatal care. The little male was a beautiful little ginger guy, it's so heartbreaking to lose a baby. Jaycie is a spunky, happy, alert little Diva. Jaycie is just 4 years old. She isn't fond of other dogs in her home but Ok when she meets them outside. Perhaps this will change once her baby is grown and Jaycie has time to adjust. She is a tiny little Ginger girl. Adorable lively and packed full of fun, mischief and charm. Jaycie loves treats and toys. She has the cutest head tilt when she is curious. She is leash trained, house trained and loves car rides. She will be with me here for at least 8 weeks to raise her puppy then she will be spayed and have a much needed dental. It will then be Jaycie's turn to shine and begin a search for a loving forever home. Watch for Jaycie and Baby updates. Help us celebrate the love and arrival of this new little girl in spite of the sadness I feel over the loss of the little boy.


JAYCIE
IS LOCATED IN IOWA
Send Application to
ccswires@netins.net
Neutered
Rabies Vaccination
Distemper Vaccination
Bordatella Vaccination
Heartworm Tested
On HW Preventative
Blood Work
Fecal Checked
Full Dental Cleaning
Cystotomy Surgery
Micro Chipped
Groomed