WIRE FOX TERRIER RESCUE MIDWEST
Gallery of Dogs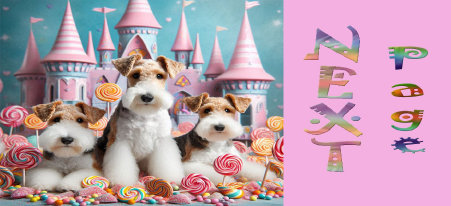 BOB IS
LOCATED IN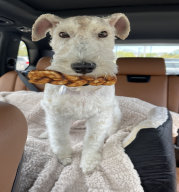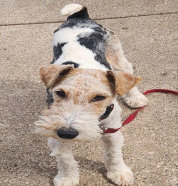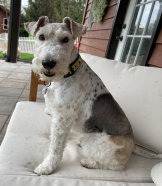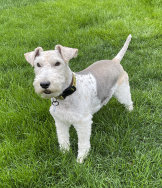 Send Application to:
ccswires@netins.net
JW IS
LOCATED IN
Send Application to:
ccswires@netins.net
Benji was plastered over a classified website as needing a new home. He is a 12 year old owner surrender who has lead a life of pure neglect. He has never seen a vet and has lived most of his life outside on a deck. Thanks to our friend Daniella who picked up this poor boy and kept in Philadelphia and provided temporary foster. His new name is Johnny Walker or JW for short. JW has severe ear infection with a heavy yeast presence, Lymes disease, Eye Ulcer, skin issues and very large testicular tumors which are purple and discolored. He was in horrible shape and in pain.
Bob was an extraordinary rescue of an Extraordinary Dog. WFTRM seems to be the rescue others reach out to for help. We were contacted several times to please help Bob, so we reached out to see if it would be possible. I learned long ago if you try hard enough and long enough most things are possible and this was no exception. Bob started life in Lyons, France born on 1-6-15. Bob's unfortunate Story started when he was born to a litter of hunting dogs, except poor Bob is Blind. Blind hunting dogs donít do well so he was surrendered to a shelter as a very young puppy. Bob was cared for but received very little fun or socialization we decided we had to help this guy. He couldnít spend another year in a shelter kennel. Long story short Bob arrived in the USA, Boston on 12-21-16. He has an awesome foster home in Worchester MA with some Irish Terrier girls to keep him company. We did take Bob to Tufts University to Dept. of Ophthalmology but his vision can't be restored or helped. Bob has Degenerative Retinas, no pain and no treatment needed but he will be forever a blind dog. Bob has always been blind so he is quite comfortable with this disability. Bob is a bit of a clown these days. He enjoys romps in his huge Fenced Yard. He patrols the fence line and keeps the perimeter secure. Bob is an excellent watch dog his hearing makes up for his lack of vision. He really is a very comical strong willed fellow. Bob is a lover of his family, people in general really make this guy happy. I assume from so many lonely days he feels he has to make sure he isn't left alone any longer. Bob has an amazing sense of smell and it comes in very handy for checking out what is cooking in that wonderful kitchen. Counter surfing is one of his favorite things. He does the cutest Terrier head tilt when he catches a yummy smell. Bob loves to eat and will do most anything for Treats or food so this is a wonderful training aid. Bob is also highly intelligent and loves to romp and play with dogs who are his size. He can play rough so no small dogs. Bob weighs 47 pounds and is 20 inches at the shoulder so he is not a small boy. Bob is a Wire Fox-Griffon mix and Adorable. He is so soft and extremely huggable. Bob is very clever and if you channel that self-interest, he is easy to train. He needs an owner with an appreciation of his sight loss and prepared to work with him. He's not good with livestock and does need very secure fencing! He loves to go on walks and to explore. Bob requires a vigilant owner and a secure fence. An Ideal home for Bob would be with an outdoorsy couple or single person, one other dog his size. He would love to have an owner who is home most of the time and able to play, take long walks and snuggle time. He is such an amazing happy guy with beautiful big brown eyes. He makes people smile when they look at him because Bob is an extraordinary Dog who has earned the chance at a Really perfect life. A life all dogs deserve but especially our Bob.
BOB
JW
JW travelled to Laurel, Maryland and now in temporary foster with Marcia with ITRN. He has been to the vet and the Doctor suspects he will require surgery on his ear canals that will require a specialist. He was prescribed 3 antibiotics, eye drops, ear cleaning 3 times a day and ear medications and a grain free diet. He had a cough so Doctor would not allow him to stay at the hospital as we had originally planned. So Marcia took him to her home. Irish Terriers have an angel in their corner with this lady. He is having awesome nursing care and loving every moment. She purchased him a little red bed and he adores it. He loves her and howls when she leaves his sight. He hates crates so he sleeps in his little red bed. JW sits up and does that adorable paw pump for treats. He will do most anything for food and he loves to eat and cheese is a great motivator. He is so cute now and has quite a group of loving admirers who have touched his life and he has touched their hearts.
JW has made a remarkable turnaround in such a short time. He has changed from a grumpy, anxious, frightened, defensive boy to a sweet guy who lets his care give clean and administer medication to his very sore ears and tolerates eye drops. He has his new found friend Marcia who makes sure he gets all his meds on time, cleaning treatments and pain relief which really helps his sore joints caused from the Lymes Disease. He is having fewer and fewer temper tantrums and loves his walks every day. JW returned to Rocky Gorge Veterinary Clinic and Hospital, He will have a complete and thorough check-up including a Blood panel. If his blood workup shows it is safe to proceed, then he will have a dental and deep ear flush. He is having a urinalysis done and a microchip also. This is one of the best Veterinary hospitals in the area. They are great but this quality of vet care does not come without expense. WFTRM believes all dogs that are in our care deserve the best, since most have seen the worst.
Neutered
Heartworm Tested
On HW Preventative
Rabies Vaccination
Distemper Vaccination
Bordatella Vaccination
Full Blood Work Panel
Full Dental Cleaning
Biopsy
Fecal Check
Micro Chipped