WIRE FOX TERRIER RESCUE MIDWEST
Gallery of Dogs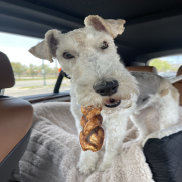 VALENTINO
Send Application to
knierim@msn.com
Hearts were a flutter when a special little boy arrived at Rescue on Valentine's Day. Little Valentino is 3 months old and a typical curious, playful and adorable Wire Fox Terrier. He has a lovely tri-color coat, darling little face and a terrier tilt made to melt your heart. He sure likes admiring himself in the mirror too. This little smarty pants has mastered the doggie door, knows how to sit for a treat and is precious when he is sleeping on your chest and enjoys sleeping the night away in your bed. When he is play mode look out for those little razors as your clothes will be distressed for you with tears compliments of Tino. His name means Brave and Strong and while I can tell you that brave is definitely Tino but we will have to wait until he gets bigger for the strong part. Valentino loves to be with the pack of Wires at his foster home and chooses the biggest fellow Ricky and the enforcers Biscuit and Dizzy to jump up at and give his ferocious puppy growl to along with a snap or two. He is not so brave when the vacuum starts and he heads for the hills and hides behind the curtains. Valentino loves to gather up all his toys and collect them in his bed and then will pounce on them. Huge thank you to the Rescue and Transport team of Melody & Gregg, Jane and George and his foster home Nonie in St. Louis. This little fellow will now have the home and life he so deserves. Tino will need a home where someone is home more often than not and has the time to spend training, bonding and teaching him how to be a respectful Wire Fox boy and also socializing skills. A fenced yard is a plus for exercise and for potty training.
VALENTINO
IS LOCATED
IN
ST. LOUIS
Rabies Vaccination
Bordatella
Distemper Vaccination
Heartworm Tested
On HW Preventative
On Flea & Tick
Fecal Checked
Micro Chipped
WEBSTER
WEBSTER
IS LOCATED IN
ST. LOUIS
Neutered
Rabies Vaccination
Bordatella
Distemper Vaccination
Heartworm Tested
On HW Preventative
On Flea & Tick
Blood Work
Full Dental Cleaning
Fecal Checked
Micro Chipped
Groomed
Send Application to
knierim@msn.com
WEBSTER is a new arrival
to WFTRM and is such a
handsome boy. He is 10
years old and still has his
beautiful tri-color coat
and texture. He weighs
20 pounds and is totally
adorable. Webster is very friendly with everyone and all dogs. He loves to go out in the fenced yard, explore and sniff and bark and joins the other Wires for naps, playtime, sitting for treats and being part of a family. Webster was with a family who struggled to understand him, his needs and perhaps just too busy for him. He had some seizures which he briefly took medication for but was not kept up and stopped. They gave him Prozac for anxiety but it can be a medical condition or medication causing what appears to be anxiousness. Webster was on Potassium Bromide to manage seizures but looking back in his vet records it was given for fireworks anxiety and also doubled up when the owner felt like it. This medication should not be given more than directed or more often and it is a seizure med and not anxiety med. On the first of this year, his owner dropped him off at Animal Control in Newburgh, Indiana and said here you go – he has anxiety. Who does this to their pet? Webster had to be so scared and frightened. A volunteer for the animal control and a local rescue group saw him and pulled him to foster for the rescue group. They took good care of him but knew he would have the best chance with his breed rescue. I contacted them and they were so grateful that WFTRM would welcome in Webster. He is feeling more safe and secure each day and is being fostered in St. Louis with Nonie. He loves the gang of four Wire Fox Terriers there and especially took a liking to Ricky. He likes all the toys, the attention, the loving and most of all being wanted and cared for. His blood work returned with elevated liver values which could be medication toxicity so he is on Denamarin for this which is a liver supplement. He is being kept on the Potassium Bromide and given the dosage prescribed by the vet in St. Louis. Webster is just a wonderful boy who deserves a wonderful home.