WIRE FOX TERRIER RESCUE MIDWEST
Gallery of Dogs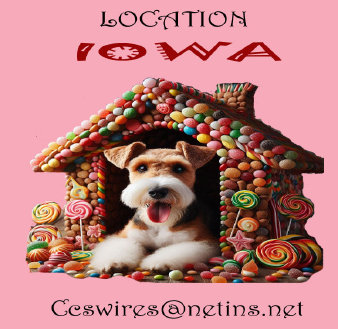 FRECKLES
Freckles is a sweet Wire Fox boy who was made to live outside in a pen in Kentucky. A neighbor was a shelter volunteer and talked the owner into relinquishing him to WFTRM with the chance to get help and live life as a pet. Freckles arrived in Chicago in May of 2016 and is currently still at Rescue in Chicago. Click the Rescue Story Box to read his Rescue from the beginning.
One of the symptoms of Cushings is anxiety and this increases if the dog is itchy. When Freckles had his crusts reappear on his torso and was biting his front paws 24/7 he visited Dr. Ness on December 22 and was given the Canine Atopic Dermatitis lmmunotherapeutic - an injection that aids in the reduction of clinical signs associated with atopic dermatitis in dogs. This shot worked wonders for him. It is supposed to last 30 days and it actually held for 3 months. On his return visit in March 2017 he received another injection. When April and May rolled around his allergies were in full force again due to the environment. Freckles now gets the injection regularly on a monthly basis. He is also on Apoquel, Hydroxyzine and Cefpodoxine as the skin scrapings showed bacteria and infection. The injection now has a name and is called CytoPoint. Freckles also gets weekly Malaseb baths.

Freckles has been battling with trying to find the right dosage of medication for his Cushings. He has been on so many levels of Trilostane and schedule. He went on a trial of desmopressin drops which is primarily used to treat diabetes insipidus. Freckles has had Cat Scan and an MRI and both were unremarkable. As reluctant as I have been to try the other medication, in April 2017 Freckles started back with his regular doctor and is on Lysodren. He had done fairly well but had a very bad pancreatitis attack in the fall of 2017. He continued on the Lysodren until February 2018 when he began vomiting everything he ate. He was never able to reintroduce this Cushings medication.
A discussion with Freckles vet regarding whether his thyroid could be the primary disease and cushings secondary. We are not trying Freckles on L-thyroxine daily. He still gets his Apoquel, medicated baths and sees Dr. Ness for his Cytopoint injection. So far things are looking up for this poor fellow that has had such a rough time. He has even lost 3 pounds! Freckles is considered to be a member of the Special Needs Club. He arrived and through all his medical needs was never adopted out and is being cared for here in Rescue.
Ordered a bathtub on legs for Freckles weekly baths. Still not the best at cooperating but much easier on the back.
Freckles wore his skull hat and harness to his visit to the dermatologist.
He is enjoying life here in Rescue and has taken over the Chippie patrol position that was once held by Felix. There are so many scampering around the gardens.
Freckles gets annoyed with Phoebe and Fabio when the run and get rowdy. He barks at them to STOP so he is nicknamed Officer Freckles of the Fun Police.
ANNIE
A sweet, tiny 12 pound little girl just joined WFTRM in Iowa. She was picked up stray and landed in a shelter. She had some very deep matts, long nails, dirty and was in need of TLC. The shelter workers buzzed her matts off, and clipped her nails but she didn't enjoy the process so they gave up. Imagine that a Foxy with attitude. I must admit she looked a little silly when she arrived. Silly but kind of quizzical and Oh so Cute. She won hearts at the vet to, Dr. Mallen named her Orphan Annie so Annie is her new name. Her health all checked out Perfect. Dr. guesses her age at around 7,she is having a dental, vaccinations all up to date, microchipped her just in case she runs away again. Heartworm test is Negative, fecal clear and awesome blood panel results. Annie is loving life here in my home. She had a Spa Day and I think she is looking quite Foxy, while she waits for her lovely fur to grow back in. Imagine her with cute fluffy eyebrows and Beard. Leg furnishings will add a lot to her Foxy looks to. Meanwhile Annie enjoys sitting in the sunroom looking out the window, climbing on the back of the sofa to snuggle in and Loves a lap if anyone wants to sit and hold her. Annie can sit up and beg so sweet. She holds her tiny paws together almost like she is saying a prayer. Maybe she is saying a prayer for a loving family of her own. A family who won't let her get filthy and matted and run off. She is so quiet, calm not into rough housing with the rest of the gang here but she is quite congenial to her Canine buddies. She has a soft growl if they start to push her or annoy her. She would probably be happy as an only dog. A tiny Queen who loves to be pampered. Annie is house trained, walks on a leash but pulls. She seems to enjoy car rides. Annie will bolt and Run so needs an owner who is vigilant and will keep her safely at home. She is an adorable Foxy who is continuing to blossom every day.
ANNIE IS
LOCATED IN
Send Application to
ccswires@netins.net
Meet a most loveable handsome unusual boy named Rocko. Rocko was rescued from a High-Kill shelter in MS. He was running out of time. Something about those beautiful, sincere, intelligent, Pleading eyes said Please help me so WFTRM volunteer Shawn in NC found a friend who left Charlotte and drove all night to arrive at the shelter in time to Fetch Rocko home He was out of time and his Luck changed that day. Rocko was saved and he has proven to be a wonderful fellow well worth all the effort. Rocko is an unusual breed a Jadgterrier. They are not common but they are highly intelligent, loving and loyal to their people. They work hard to please the people they love. They are a working Terrier, originating in Germany, used for hunting much like our beloved Smooth and Wire Fox Terriers. Rocko is a Young dog around 2 years or less. He weighs 19 pounds, vaccinations are current, neutered, Microchipped and in perfect health. He arrived in his foster home on the anxious side with little to no training. It was discovered Rocko does not do well with other Canines. He is very defensive and will fight so he needs a home as an only dog, secure, safe fenced yard and an owner who has experience working and living with a Terrier. Rocko has been through 8 week formal training program, enrolled with New Lease on Life. He learned basic obedience commands and several fun tricks. He loves to preform and entertain. Rocko knows sit, down, stay and will continue to stay until you call him in. He loves walks and is perfectly leash trained. He is well house trained and also crate trained. He likes his crate and will take toys or a chew in to relax and play if you leave the kennel door open. Loves to jump up on the back of the sofa and snooze. He will roll over for a treats and has been trained to stay back from the door on command and allow his owner to go out first. Rocko is a working dog and thrives on learning new things catches on extremely quick. He is a really amazing fun dog for some lucky family. Rocko would be ideal for a single person or a couple, probably not the best choice for small children. He is very affectionate gives kisses and loves people just never tested with children. He has high prey drive bred to hunt and requires a home as an only dog. He is all ready to begin his journey to find a Perfect Forever Home. He will reward his new owner with many years of Loyal Canine companionship and the pleasure of living with an intelligent well trained dog. Consider this guy if you like an active, fun, loyal intelligent companion.
ROCKO
ROCKO IS
LOCATED IN
Send Application to
ccswires@netins.net
Spayed
Heartworm Tested
On HW Preventative
Rabies Vaccination
Distemper Vaccination
Bordatella Vaccination
Fecal Check
Ears Cleaned
Groomed
Micro Chipped