WIRE FOX TERRIER RESCUE MIDWEST
Gallery of Dogs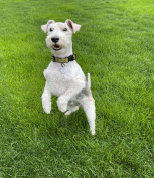 FRECKLES
Freckles is a sweet Wire Fox boy who was made to live outside in a pen in Kentucky. A neighbor was a shelter volunteer and talked the owner into relinquishing him to WFTRM with the chance to get help and live life as a pet. Freckles arrived in Chicago in May of 2016 and is currently still at Rescue in Chicago. Click the Rescue Story Box to read his Rescue from the beginning.
One of the symptoms of Cushings is anxiety and this increases if the dog is itchy. When Freckles had his crusts reappear on his torso and was biting his front paws 24/7 he visited Dr. Ness on December 22 and was given the Canine Atopic Dermatitis lmmunotherapeutic - an injection that aids in the reduction of clinical signs associated with atopic dermatitis in dogs. This shot worked wonders for him. It is supposed to last 30 days and it actually held for 3 months. On his return visit in March 2017 he received another injection. When April and May rolled around his allergies were in full force again due to the environment. Freckles now gets the injection regularly on a monthly basis. He is also on Apoquel, Hydroxyzine and Cefpodoxine as the skin scrapings showed bacteria and infection. The injection now has a name and is called CytoPoint. Freckles also gets weekly Malaseb baths.

Freckles has been battling with trying to find the right dosage of medication for his Cushings. He has been on so many levels of Trilostane and schedule. He went on a trial of desmopressin drops which is primarily used to treat diabetes insipidus. Freckles has had Cat Scan and an MRI and both were unremarkable. As reluctant as I have been to try the other medication, in April Freckles started back with his regular doctor and is on Lysodren. So far he has been doing okay on the maintenance dose. I wish there was an easy answer for this Cushings Disease but sadly there is not.
Until the allergy season has reared up again, Freckles was starting to try and join in the play sessions and even picked up a toy and played some tug with Fabio. He is enjoying life here in Rescue and has taken over the Chippie patrol position that was once held by Felix. There are so many scampering around the gardens.
Ordered a bathtub on legs for Freckles weekly baths. Still not the best at cooperating but much easier on the back.
Freckles wore his skull hat and harness to his visit to the dermatologist.
Freckles was excited to get a new Halloween blanket for his bed.
OFFICER FRECKLES OF THE FUN POLICE