WIRE FOX TERRIER RESCUE MIDWEST
Gallery of Dogs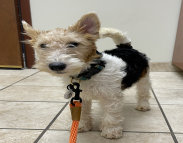 HANK
Send Application to
ccswires@netins.net
Hank joined rescue and
we are so happy to have
him here in Iowa. He is
an adorable sweet, gentle,
loving boy with just a
touch of mischief and
playful silly fun. He loves to play with Stella. I think she is showing him how much fun life can be. Hank was born September 21, 2018 and was surrendered because his family loved him but had some major life changes and couldn't keep him. He is neutered, microchipped, fecal checked and all up to date on vaccinations, started on Heartworm prevention. He is a healthy happy boy. Hank loves to run in the fenced yard, likes chews, Toys, walkies and car rides are fun too. Hank plays hard then decides its really time to snuggle, this boy loves to cuddle on your lap or take time for a nap if your willing. Kisses and Good Boy are his favorite things. Hank had his first spa day. He was such a good boy and loved his bath. Hank is an all around wonderful Foxy boy who will make some lucky family a great companion. We are looking for someone who has time to play, train, love, exercise and totally enjoy this awesome fellow. Obedience school would be a fun way to socialize Hank. He loves to run and play so a fenced yard would be perfect. He also does well with a canine companion who is also into having fun but isn't aggressive toward him. Hank is ready for a loving Forever Home if you feel your home is that prefect home for him please send us your application.
HANK IS LOCATED IN
IOWA
Neutered
Rabies Vaccination
Bordatella
Distemper Vaccination
Heartworm Tested
On HW Preventative
Wormed
Fecal Checked
Micro Chipped
BRAXTON
Braxton is a fun puppy and
Oh so Handsome. He is really
quite well-mannered for a
little guy who is so young.
Brax was born 9-2-18. He is
AKC registered, healthy,
happy, and a perfect example of what a Wire Fox is all about. Braxton is neutered, blood panel done, fecal checked, on heartworm prevention, vaccinations are complete and he is microchipped. Health is perfect. Brax loves to play fetch and has the most adorable habit of jumping on his toys with his front paws to make them fly across the room. He especially loves his big purple Kong with treats. He is also quite a soccer player when he turns his bowl upside down and pushes it across the floor. Brax is very alert and really misses nothing he is quite intense and intelligent for a puppy. He seems older than 6 months mentally. He seems to have a serious side, kind of a thinker. He gets along with other dogs but he is edgy and you have to stay in control of the playtime. He is pushy especially with food. He eats in his own room to avoid triggers he doesn't want another dog in his food bowl. I can take his food or things out of his mouth with no problem. Brax will definitely be best as an only dog but meeting other dogs is not a problem. He plays here with one other dog at a time with supervision and a firm correction if needed. He is crate trained and goes happily into his crate every night with his treat. He loves to snuggle on my lap at night but days he is often too busy checking out the windows for squirrels, cats or rabbits. He does have prey drive for the outside critters. Brax is very attentive makes great eye contact when I work with him. He is very interested in learning. He isn't a barker, loves walks, car rides and is a very social guy with people. He requires a secure place to run and play, experienced owners to help him reach his full potential and who have time to give him all the attention he deserves. Brax was owner surrendered because they purchased 2 brothers. This turned out to be a huge mistake and I suspect Brax spent a lot of time in a crate. He is ready to begin a new life in the right home this time. If you feel you can give this handsome guy the life he needs send us your application. Brax and I live in Iowa. Meanwhile I will just enjoy him He really is a wonderful Foxy.
BRAXTON IS LOCATED IN
IOWA
Neutered
Rabies Vaccination
Bordatella
Distemper Vaccination
Heartworm Tested
On HW Preventative
Wormed
Fecal Checked
Micro Chipped