WIRE FOX TERRIER RESCUE MIDWEST
Gallery of Dogs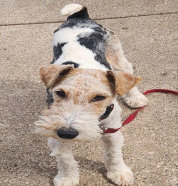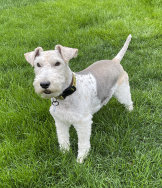 BEAU
Beau has a different story. He wandered up to a home when he was around 1 year old and they kept him. He lived outside and just hung out with a large mixed breed dog. Beau did fine all of his 8 years there until the family moved and changed his surroundings. They decided they could no longer keep Beau so put him on Craig's list and that was the beginning of a major life change for this handsome adorable little guy. His Luck really changed when he joined WFTRM and went to a wonderful loving foster home in Brownsville, Texas. He is now living life as a pampered pet with a female Wire sister named Moxie. Beau has made a complete turnaround in his foster home. He is well house trained, in fact uses a doggie door. His anxiety level has gone way down now and he is willing and happy to be home alone for a couple of hours. He loves to sleep with his foster mom. He really loves to ride in a doggie stroller. It makes him smile and he is such a love he can melt hearts. Beau has also visited a Veterinarian and I am thrilled to report Beau is in perfect health. He has had all of his vaccinations, neutered, dental, full blood panel, Heartworm tested Neg, fecal check and Microchipped. Beau is living the Good Life now. We do feel he is ready to go on the next step of his journey and life change. Beau is ready for a forever home. We are looking for that perfect family to love him. He is good with other dogs and really think he would do best with a calm loving canine companion, secure fenced yard Beau has Houdini Talents for escaping. He loves to be with his owner so we are kind of looking for retired or stay at home person to love Beau.
Let Love Bloom
BEAU IS
LOCATED IN
Neutered
Heartworm Tested
on HW Preventative
On Flea & Tick
Rabies Vaccination
Distemper Vaccination
Bordatella Vaccination
Micro Chipped
Send Application to:
ccswires@netins.net
FINNEGAN
Meet Finnegan. He is an awesome fellow here in Iowa who is just 8 months old and an owner surrender from Wisconsin. A typical adorable mischievous active playful Wire Fox Terrier puppy who proved to be too much for his owner. Finnegan aka Finney is not for someone who does not understand Wires. He loves other dogs but only if they like to tussle play tug and most of all play tag. Hide and seek is fun too. Dogs who will not play be ready to get teased barked at until they get upset and chase Finney. He is all about Fun. He requires a secure fenced yard, someone who has time patience and interest in obedience training. He sleeps in a crate and will go in to rest but is Not going to put up with long boring days confined. Finney is very happy determined to have fun oblivious to what his people want unless perhaps a treat is involved then maybe. He does know sit, house training needs to be reinforced. He is fully vetted healthy micro chipped and ready to find that perfect forever home.
FINNEGAN IS
LOCATED IN
Neutered
Heartworm Tested
on HW Preventative
Rabies Vaccination
Distemper Vaccination
Bordatella Vaccination
Micro Chipped
Send Application to:
ccswires@netins.net