WIRE FOX TERRIER RESCUE MIDWEST
Gallery of Dogs
BONNIE IS
LOCATED IN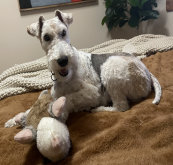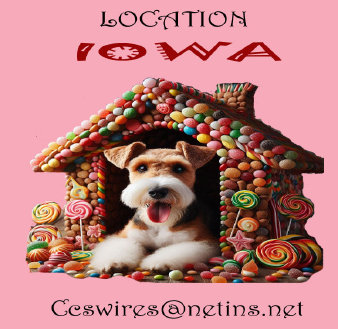 Send Application to:
ccswires@netins.net
Meet Bonnie a delightful little sprite who has enjoyed a pampered life. She has been treated like a little princess so is it any wonder she believes the world revolves around her? Bonnie is 6 years young, spayed, healthy with vet work current. She has seasonal allergies and is on Apoquel for 6 months and eats a grain free food. It is important to treat the allergy with proper diet and the apoquel. She is full of Lively, peppy, spunky energy. Her favorite activities include long walks, Chasing her Frisbee or just hanging out on a lap to chew her favorite chews. Bonnie has proven herself to be very trustworthy when left home alone. She naps and just hangs out until her owners come home. Bonnie has never displayed any destructive tendencies. She is really well house trained. Bonnie is ok sleeping in a crate, or in her owners bed she lets them decide but she prefers to snooze in the same room. She is quite content in a crate and will go in and out or sometimes take naps in her crate if The door is left open. Bonnie goes to doggie day care sometimes just for a change of pace. She seems to enjoy the big dogs, but has been known to get quite snappy and bossy with little or medium size dogs. Bonnie is really territorial in her home. She will not allow other dogs to visit. She is the Queen in her castle no other canines allowed. She will fight so Bonnie needs to be an only dog. Bonnie really needs to find a new home since she has proven herself to be alpha and snappy with the Couples child. She did well with the new baby in the beginning but now the child is 16 months old. She is walking around and like all babies tries to grab Bonnie. This all results in growls, snaps and fear she will bite the child. They do plan on having more children so Miss Bonnie needs to find a Childless Home. She is not good with any children even visitors. Bonnie was raised for many years as the Baby in the house. She had all the attention so this is very normal behavior for many female Wire Fox. The solution to rehome seems simple but this has been a heart wrenching decision on the part of a family who loves this little dog. Bonnie is fun, peppy, spunky and full of wonderful Foxie Antics. You will fall in love with her amazing spirit, energy, and loyalty. We want nothing but happiness for her the remainder of her life, and hope her new owners can provide that. She's a great dog and we will miss her terribly.
BONNIE
POPPY
Poppy joined Rescue in Iowa over Memorial Day, picked up from a shelter, with an inappropriate name so we decided Poppy fit the holiday. Poppy is one of the sweetest, happiest girls ever and loves her new life in rescue. She greets everyone she meets with a smile, happy with all other dogs and seems quite comfortable with children. Poppy loves toys too especially balls and squeaks in the ball is an exciting bonus. She can run fast and grab them before the other dogs notice the toss. She hops and jumps like a little lamb when she runs, she is so cute and becomes so excited and happy. Poppy rarely fails to bring the ball back to you. She has learned to be quite comfortable in the house, jumps on the sofa now to watch TV with the family. Poppy loves to sit on a lap and cuddle she so enjoys being petted and talked to. She loves her dog beds and sleeps in her bed most nights. Her favorite place to sleep is in bed with her owner but will settle for her own bed. Poppy is ok in a crate but she really doesn't need to be crated, she is fine alone in the house when I leave. Poppy doesn't chew things or get destructive. She prefers to have someone home and will lay right by your feet until you are ready to play. Poppy does okay on a leash. House training is coming along fine you do need to remind her and ask her to Go Outside? Poppy was very dirty and matted when she was picked up from a bad situation so the shelter had to shave her fur down very short. This isn't the best look for a Wire Fox but it does show her beautiful warm expressive eyes , long Muzzle, nice tail dock and good conformation. I suspect poppy had a good breeder based on her tail dock and she has had dew claws removed, this suggests she came from a breeder who knew the breed and cared. Poppy was born 5-5-2011 She has had a complete and through physical spayed, Micro chipped, fecal, dental, full blood panel and declared to be in great health. She weighs 23 pounds and is normal Wire Fox size. Poppy will make a wonderful companion for the lucky family who adopts her. She will require a fenced yard, would do well with another dog and an owner who is at home enough to play, snuggle, take walks and pamper this adorable girl Poppy is a Real Love and ready for her forever home.
POPPY IS
LOCATED IN
Send Application to:
ccswires@netins.net
EMILY
Meet Miss Emily she arrived in Iowa a week ago, from a Breeder in Kansas. Emily was born on May 22, 2009 she is registered. She and the Spice Girls are not friends but they are "acquaintances". Emily did not like to play nice with them. She is a bossy girl with other dogs especially girls. She has decided my male Cooper is okay but he had to work on convincing her. Emily would do best as an only dog. You can walk her and she ignores other dogs, so not dog aggressive but wouldn't do well in the same home with a Canine companion. She is an adorable sweet funny little rascal. Emmi is just full of Foxie antics, Prances, Dances and loves to play. She is really fond of fuzzy squeak toys, tosses them in the air then runs to catch them. She loves to play outside but prefers I am with her. She loves people I have never seen a more social pup come from a breeder. She is also pretty confident and happy in the house. Emily runs to her crate if something startles or upsets her. Her crate is her house and safe place for now. She walks well on a leash too and is excited to go and explore. Emmi has had all of her preliminary vet work done. Thyroid tested a little low so we sent in an MSU thyroid panel. She is in Great health and will go back to Ave of the Saints on Tuesday for spay and a Much needed Dental. She is such a happy little sprite weighing in at 16 pounds of pure sweetness. She is so cute and comical and full of Joy. Miss Emily will be a fun little companion for someone who just wants a baby to love and pamper.
EMILY IS
LOCATED IN
Send Application to:
ccswires@netins.net
Spay Surgery
Heartworm Tested
On HW Preventative
Rabies Vaccination
Distemper Vaccination
Bordatella Vaccination
Fecal Check
Wormed
Full Bloodwork Panel
Urinalysis
Full Dental Cleaning
Micro Chipped