WIRE FOX TERRIER RESCUE MIDWEST
Gallery of Dogs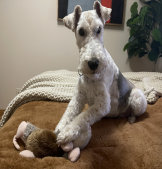 SWEET BEE
Send Application to
knierim@msn.com
SWEET BEE IS LOCATED IN
FLORIDA
Spayed
Rabies Vaccination
Bordatella
Distemper Vaccination
4 DXHeartworm Tested
On HW Preventativ
On Flea & Tick
Fecal Checked
Canine Fluenza Vacc.
Full Blood Work Panel
Full Dental Cleaning
Dermatologist Screening
X-rays/Ultrasounds
Skin Cultures
Micro Chipped

SWEET BEE is the perfect name
for a very darling and brave little
Wire Fox Terrier girl. She lived
with her owner in an Eastern
Coastal town of Florida until he
passed away and a friend had
taken her in. She had suffered from skin issues for several years and it proved to be more than this friend could handle so she was turned into the Shelter. From the years of her condition not getting under control, she was in need of serious intervention and a veterinary dermatologist. Sweet Bee had open lesions that would drain, hard patches and hot spots along with some raised sores. She was painfully thin with no muscle mass. She has been wearing a garment to protect her from licking and chewing on the areas that are affected and also itch. Skin allergies can be such a miserable condition to endure and this little girl has been through so much. Sweet Bee has been to the vet for an exam and consultation and received the referral needed to make an appointment with a specialist. She has had a full blood panel which is all over the charts, her thyroid is low and she is slightly anemic. She is going on thyroid medication and will be getting medicated baths. While she was in foster care at the Shelter, she had some cultures which showed a staph infection of the skin and drug sensitivity testing done which returned with Sweet Bee being either Resistant or Sensitive to just about every antibiotic from Amoxicillin to Trimethoprim – all at varying levels.
Sweet Bee was born November 19, 2010 and is 8 years old. She so longs to be part of a family and be loved and petted. This little girl is the nicest you have ever met and everyone is her friend. She is such a happy little girl and just adores toys and balls, squeaking them, walking around with them in her mouth. She loves watching animal shows on the television and also gives her opinion too. Sweet Bee is in heaven getting her neck and chest rubbed and closes her eyes it feels so good. She just is soaking up all attention and loving and it probably has been awhile since someone has wanted to pet and touch her. Her condition had to be so painful, sore and miserable and to endure this and still have the most joyful, bouncy and friendly personality is heartwarming.
Sweet Bee had her Veterinary Dermatologist appointment on April 26, 2019 at Tampa Bay Veterinary Specialists. Dr. Scott examined her and suspects multiple bacterial and possible fungal infections going on. There were biopsies done of the raised sores, skin scrapes, skin cultures and fungal cultures taken. These results take weeks to return. In the meantime, Sweet Bee will be on a daily regimen of Chlorhexidine baths, Silver Sulfadiazine Cream and also went home with skin wipes. This will be a ton of work for her foster mom JoAnne and a labor of love for a little girl who needs help. When the skin allergies become to the stage where Sweet Bee is, the treatment has to be aggressive until it is under control and then the management phase takes over. She is already looking so much better since joining Rescue, is eating well and a good diet. Veterinary Dermatologist recheck was on May 14th and she is looking good but still needs to stay on the medications.
Sweet Bee was adopted to a couple in Florida on May 12th. They had mentioned previous plans to attend a graduation and foster mom JoAnne agreed to watch her a few days while gone. They met on the early morning of May 22nd where she was blindsided and given back a bag with all of Sweet Bee's belongings and told they were not coming back for her. The reason was that they felt she had degenerative myelopathy? She was also told that Sweet Bee was tender on the back side and doing two steps. JoAnne took her home and noticed she was lethargic and she was brought to the Animal Hospital right away. Sweet Bee had lost 4 pounds in this short time. Blood Work was done and numerous X-rays, one of the spine which is normal. X-rays done of her stomach and it was discovered there was foreign matter in her G.I. Tract and Intestines that resembled gravel. She was eating and was able to have a bowel movement which had these little pieces. She did return with a new bone half eaten which resembles the pieces found in her stool. Her blood work returned with levels all over the place and elevated from her last panel. She was hospitalized overnight given I.V. Fluids and medications and round the clock care. She stayed at the Animal Hospital the following day with more X-rays, an Ultrasound and other testing. The particles all seemed to have passed through but she was left with a stomach ulcer. The bone was a Whimzee's rice bone but whether that contributed to the ulcer is unclear. She could not digest it and the particles remained in her tract and intestines. Ulcers can form from ingesting toxins, given human medications and other causes. She is on a medication to coat the stomach as well as the lining of her intestines.
PENNY LANE
PENNY LANE IS LOCATED IN IOWA
Send Application to
ccswires@netins.net
Introducing Miss Penny Lane, a gorgeous little girl who just joined WFTRM in Iowa. Penny Lane was surrendered by her owner who cared enough to see that she was not getting the love and attention they knew she deserved. Penny Lane was born 9-4-2017 a youngster with all the pep and enthusiasm one would expect from a Wire Fox Terrier. She is lively, mischievous, playful and enjoys a romp with the Boy Foxies here. She can be a little bossy with other dogs like most Wire Fox females. She races in circles around the yard as fast as she can run with her friend Teddy. Zane also keeps her on her tippy Toes with his antics. Penny Lane loves to play tug and chew on the squeak toys. She really enjoys long walks, water play time, rides nice in a car and loves to snooze on the back of a chair. She is quite athletic and light on her feet. This girl can jump. She likes to jump on the table to explore and look for items to steal and chew. I have lost a few ink pens. She is really talented at playing keep away when you are trying to retrieve one of her stolen items. She hides under the bed or any furniture when she is tired or just wants to be alone. She is very smart with great problem solving skills. Penny Lane likes to be busy and will require a secure fenced yard. She plays hard all day and in the evening enjoys quiet time and snuggles. She is ok in a crate but doesn't really like crate time. I have worked with her to sleep in a crate but so far she has not been crated. She is well house trained. She has had good care. Penny Lane was itching when she arrived. I have her on a special diet Royal Canin Hydrolyzed Protein and she had a cytopoint shot for allergies. This has alleviated her itching problem. She loves the food and she enjoys NO grain treats. Grains can cause allergic reactions in many Wires. She is healthy with no Health related issues. Penny Lane is spayed, Blood panel, Heartworm tested and on prevention. Vaccinations are all up to date and she is micro chipped. Looking for a fun loving Foxy girl Penny Lane is the one. She is ready for a loving Forever Home with the right family who has time to love her and give her the home she deserves.